Ohemaa Woyeje responds to Afia Schwarzenegger unfollowing her on Instagram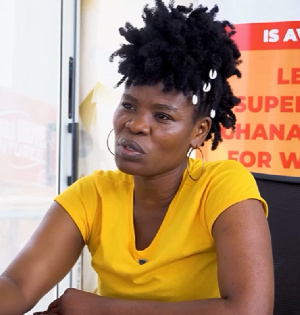 Popular Angel FM's presenter, Ohemaa Woyeje has responded to
Afia Schwarzenegger
 unfollowing her on social media platform, Instagram.
Her response comes after Afia Schwarzenegger accused her of granting an interview to Ayisha Modi and allowing the socialite to disrespect her, as well as not considering the kind of relationship which existed between them.
In an interview with ZionFelix, the radio presenter mentioned that the fact that Afia Schwarzenegger has unfollowed her does not imply that she is going to have a beef with her.
She went ahead to say that she is not angry with the socialite but believes that Afia Schwarzenegger at her own pace will rekindle their friendship.
Ohemaa Wojeje also added that even if Afia Schwarzenegger cut ties with her, she still would not have any issue with her.
"As she vex, on a friendly note, I wrote that 'I still love you the same'. So regardless of how you are going to react to the 10 mins interview, I still love you the same. I had a call from Fifi Pratt and he told me that he has heard Afia has unfollowed me, I went to check and I said yes but seriously, I won't beef Afia. What will I get from beefing with her? And this is no issue. If she has gone to unfollow, anytime she is ready, she will come back. For me, I have nothing against her".
During the interview, Ohemaa Wojeje told the host that ever since the issue, she receives messages from some netizens and bloggers to retaliate but she sees that as drama and has no interest in becoming a part of it.
"A lot of people and bloggers have tagged me, I read some of the comments and I laugh. They have even come to my page to insight me, saying that I am afraid of Afia but it is drama. When they do that and you behave like a child, you would want to prove that you ain't afraid of Afia and you will come and do drama. So, you can't insight me with words", the presenter explained.
Check out the video below
Source: www.ghanaweb.com