I am not dead – Rev. Owusu Bempah rubbishes claims by Agradaa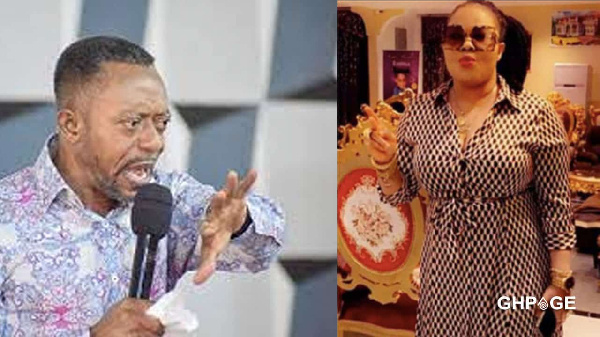 The founder and leader of Glorious Word Power Ministry International, Reverend
Isaac Owusu Bempah
 has asked Ghanaians to disregard any claims that he has died.
According to the pastor, reports that he has passed away in the United Kingdom is utter falsehood and same is the claim that he travelled to UK for medical attention.
"I've also heard it. Yesterday I received a lot of calls from my pastors back in Ghana, my elders and family were all calling that I had come for medical attention and that I had died but that is not true.
"I didn't come for medical attention. I came to hold church service and I will be starting today, through tomorrow and Sunday.
"Godwilling we will continue next week Thursday, Saturday and Sunday before we will prepare and return to Ghana. So disregard those rumours," he told Kwame Nkrumah Tikese of Okay FM in a phone interview.
Earlier, Owusu Bempah's church said in a statement that its attention had been drawn to a video in which the former fetish priestess cum evangelist, Patricia Asieduaa alias Nana Agradaa claimed that Rev Bempah had died in the UK.
While refuting the claim, the church urged Ghanaians to disregard the said rumour
"The attention of the Leadership of the church has been drawn to the contents of a video of a certain Patricia Asieduaa, aka Agradaa, circulating on social media. She has alleged that the Apostle Dr. Isaac Owusu Bempah, the General Overseer of Glorious Word Power Ministries International, has died in the United Kingdom.
"We wish to vehemently refute the contents of the video and urge all and sundry to disregard the false rumour and treat it with the contempt it deserves.
"Be rest assured that Apostle Dr. Isaac Owusu Bempah is alive, strong and healthy by the grace of God. He shall soon return to Ghana after his short trip to the UK," the statement said.
In late July, Reverend Isaac Owusu Bempah during church service informed his members of his decision to commence legal action against Agradaa.
Without being specific about the reason behind the impending legal action, Rev Bempah said his family and church would be involved in the case.
"We are taking her (Agradaa) to court. It isn't me but the family is part, the church elders are also involved and some pastors too.
"If we get to the court then we would see what would transpire," he said in Twi to his congregation.
Watch vidoes below:
Source: www.ghanaweb.com