Agradaa's jogging outfit stirs reactions online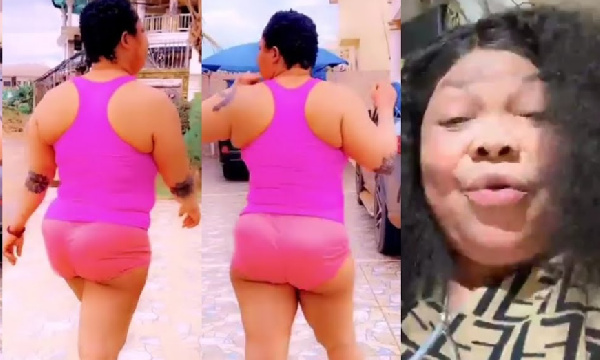 There have been mixed reactions on social media, especially on Instagram, about an outfit Evangelist Patricia Asiedua, popularly known as Agradaa, wore to a morning workout session.
In a viral video, the self-acclaimed Evangelist was captured wearing a pair of pink 'bum shorts' and a sleeveless top while jogging on the streets.
The outfit exposed some parts of her body including her thighs and butt.
Her tattoos were also captured on full display.
This particular video has stirred massive reactions from netizens who are either excited or have lambasted her for her choice of outfit.
Netizens have slammed Agradaa for dressing inappropriately despite claiming to be a pastor.
Check out the comments and video below:
A netizen known as Memuna_ Habib commented on the post stating, "Ebe grandma pant, underwear or biker shorts? @nebu?….eiiiiii libras no go kill us oooo".
"3mom maa mercy aha nipa paa o, all this for Mr. Oduro Koranteng to come back, Boi333. Shw3 nea3 3fam ne to, as3 Osoho aa ya sh3 ne dross. Agrasco all the way", a comment from another netizen.
Gidovetty also said: "Love be something oooooooo. When the heart is broken, the mind definitely can't act right. SMH".
Source: www.ghanaweb.com