'The masses are suffering,' Nigerians lament high cost of living as fuel price hikes bite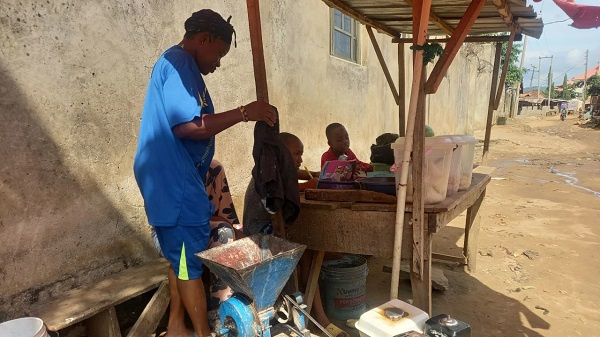 At the once-bustling Utako Motor Park — an interstate motor hub connecting Nigeria's capital Abuja to its 36 states – transporter Jume Hanwa took a rare daytime nap in the trunk of his empty vehicle.
It was Eid al-Adha, a Muslim holiday typically celebrated with travel and family reunions, but no traveler had shown up all day at the terminal hosting his commercial bus.
None came by the day before either, he told CNN, as he rubbed the sleep from his eyes.
"During the Eid last year, passengers were more than the available vehicles. Since morning, my bus has been open but not a single passenger has come," he told CNN.
"The hike in fuel price has caused a scarcity of passengers," Hanwa, 50, added.
Transport costs have risen sharply since the end of fuel subsidies was announced weeks ago.
Nigeria's new President Bola Tinubu ended the subsidy during his inaugural speech on May 29, saying it was unsustainable and a drain on public finances.
Fuel subsidies cost the government over 400 billion naira (around $867 million) monthly, according to figures from state-owned oil firm Nigerian National Petroleum Corporation (NNPC).
The news caused panic buying and long lines for fuel across the country. Gas prices were immediately hiked to nearly three times their usual rate by individual gas station owners and government run petrol outlets.
In another address on June 12, President Tinubu said he was aware that the decision to halt the subsidy "will impose extra burden on the masses," but it was crucial to the country's economic survival.
"I feel your pain," he added. "This is one decision we must bear to save our country … Painfully, I have asked you my compatriots to sacrifice a little more for the survival our country."
Travelers plying Hanwa's routes will now have to pay up to double the previous amounts for bus tickets due to the increase in the retail price of fuel, he said. But many commuters are yet to adjust to this reality.
"Before the hike in fuel price, Abuja to Kano was 5,500 ($7.26) but is now 8,500 ($11.22)," he said.
Artificially low gas prices
The subsidies had kept the price of fuel artificially low for decades, although prices had steadily climbed through the years.
Cheap gasoline has been part of daily life for citizens in Africa's largest oil producing country for decades.
But despite being the continent's top crude producer, Nigeria lacks the capacity to refine its oil and spends billions of dollars on yearly imports of refined petroleum products.
Successive governments had carried on with fuel subsidy since its introduction in the 1970s but had also mooted deregulating the country's oil sector.
Attempts by previous governments to remove the subsidy were met with rage and triggered anti-government protests, particularly in 2012 when the country was brought to a standstill for two weeks.
It has now been one month since the subsidy was halted and Nigerians are grappling with a steep rise in the cost of living.
Along with soaring transport fares, food prices and costs for other essentials have skyrocketed across the country.
Food retailer Usman Imam gets his commodities from wholesalers across the country and transports them to be resold in Abuja. But the prices are no longer as they used to be, he told CNN.
"Because of high transport costs, the prices of food items have increased. I used to buy a bag of foreign rice for 30,000 naira ($38) but it is now 45,000 naira ($58). A bag of beans used to be 40,000 naira ($51) but now it is 55,000 naira ($71). My profit is next to nothing," he said.
"My business has been severely affected, because the higher the prices, the lower the quantity of food items I can buy."
Economic hardship
Analyst Sam Amadi criticized what he described as an "abrupt" and "reckless" end to the subsidy scheme, saying that its hasty removal inflicts more hardship on Nigerians, who are already grappling with soaring inflation and high living costs.
"More people will slump into poverty and restiveness and violent crime may increase, damaging prospects for stronger economic recovery," Amadi, director of The Abuja School of Social and Political Thought, a think tank, told CNN.
Hanwa, a father-of-seven, says he is already feeling the pinch.
"My children can no longer go to school. We are battling with how to feed ourselves, not to talk of paying school fees or giving them transport money to go to school," he told CNN. "Life has become very difficult."
Fabian Grace, a 37-year-old mother-of-four is also feeling the brunt of the economic hardship.
Grace lives in sub-standard housing in a slum area of Maraba, a sprawling suburb on the fringes of the nation's capital, Abuja. She runs a gasoline-powered food grinder at a makeshift wooden stall and is her family's sole provider.
Grace relies on meager profits from her grinder machine to provide for her kids and husband, who's currently out of work. But she has seen those profits dwindle since the subsidy was removed.
"Before, I bought a liter of fuel for around 200 naira (26 cents). But now, it is sold for over 500 naira (66 cents). Customers complain that I've increased the cost of grinding their food items from 50 to 100 naira (13 cents), so they don't come again as they used to," Grace told CNN.
Most of her customers now prefer to manually grind their items into paste at home themselves rather than pay the new price of 100 naira.
"I've lost many customers," she said.
Grace now struggles to make a profit of up to 3,000 naira ($3.96) a week, she said. Her bank savings are completely depleted.
"As I'm not making many sales now, finding what to eat each day is more important than thinking of what to save at the bank."
'The masses are suffering'
State-owned oil firm Nigerian National Petroleum Corporation (NNPC) says fuel prices will now be "determined by market forces" under a free market policy.
It suggested that the high cost of the product "could also go down," but did not provide a timeline.
A reduction in price, however, remains a long shot as the country's oil marketers already forecast a further rise in the retail price of fuel from as early as July, citing foreign exchange rates, global oil prices and shipping costs.
Economist Bismarck Rewane agrees that halting fuel subsidy "makes economic sense," but mentions that the saved proceeds from the scheme must be ploughed back into bettering the lives of Nigerians.
"The economics of it (the subsidy removal) makes sense … It is a more efficient thing because the subsidy cannot continue. But it has to be removed in a way that it can be used to enhance the quality of life of Nigerians," Rewane told CNN.
Hanwa said he was "praying and appealing to the new administration to make life easy for the masses," adding: "The masses are suffering. Almost everything now in Nigeria is expensive."
As Nigerians seek coping strategies to adjust to their new economic reality, more financial shocks may be coming.
Last week, regional power utility companies retracted an earlier memo that had announced a 40% hike in electricity prices starting July 1.
The power companies must now await a final nod from the national regulator before bringing in a new tariff.
Among a raft of other proposed hikes, Nigeria's public universities are raising tuition fees.
Last month, a students association demonstrated against a hike in fees at a state-owned university in the southern Edo State which increased tuition for law students from 185,000 naira to ($238) to 741,500 naira ($957), representing a 300% increase, local media reported.
For breadwinners like Grace, whose teenage son is seeking college admission, only a miracle will suffice.
"I'm just hoping on God. He's the only one that can supply all my needs," she told CNN.
Source: edition.cnn.com