Father Ankrah surpasses Wode Maya as the most subscribed to YouTuber in Ghana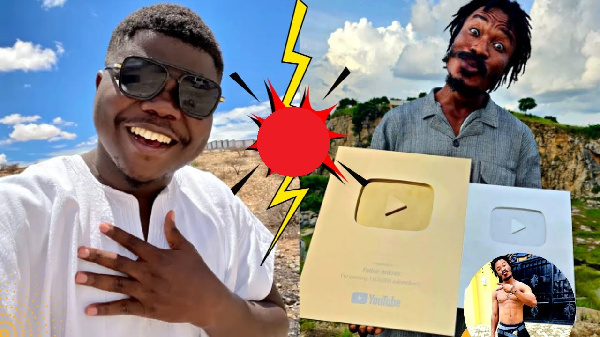 Ghanaian comic actor, Father Ankrah, popularly known as African Charlie Chaplin now has the most subscribed YouTube channel in Ghana, surpassing the previous record-holder; Wode Maya.
Father Ankrah, a skilled Ghanaian comedian, has emerged as the new YouTube sensation, surpassing Wode Maya's subscriber count.
In 2021, Wode Maya became the first Ghanaian to attain the milestone of one million subscribers on the popular online video platform.
Until recently, Wode Maya held the mantle as the leading Ghanaian YouTuber.
However, Father Ankrah's rise to prominence has been remarkable. He achieved the feat of becoming the fastest Ghanaian channel to hit one million views on YouTube.
He accomplished this feat within a mere seven months, spanning from November 2022 to May 2023.
His rapid ascent propelled him to over 1.4 million subscribers on YouTube, accompanied by an impressive one billion views, as of August 2023, solidifying his position as Ghana's YouTube leader in terms of subscribers.
Father Ankrah, along with his fellow content creator; Stone, are taking over the digital landscape, captivating audiences with their innovative comedy videos.
Father Ankrah and Stone are famously known for creating the viral bottle flip challenge which went viral across the globe
Notably, Father Ankrah is also making waves as a prominent TikTok star, seamlessly embodying the persona of African Charlie Chaplin in his comedic content.
Born Eric Duodu Ankrah on February 21, 1993, Father Ankrah is a multi-talented Ghanaian internet sensation celebrated for his prowess as a professional dancer, unicyclist, comedian, and content creator.
His journey commenced in 2012 with content creation on Facebook before his foray into the YouTube realm.
He distinguished himself by his portrayal of the African version of Charlie Chaplin.
WATCH Our latest Episode with Kennedy Agyapong in South Africa below:
Source: www.ghanaweb.com