Funny Face forgets his lines after kissing Jackie Appiah in a movie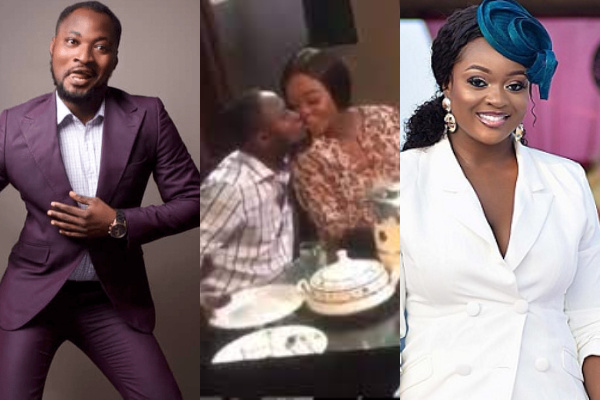 Ghanaian comic actor, Funny Face forgot his lines while on set acting after he kissed his crush, Jackie Appiah in a movie.
For several years, Funny Face has been hoping for the opportunity to get to kiss Jackie Appiah on set and the comic actor finally got to do so in a movie.
The video of Ghanaian comic actor, Funny Face, and Jackie Appiah kissing resurfaced online recently.
The scene took place within a movie, where Funny Face and Jackie were casted as characters entangled in a romantic narrative.
Seated at a dining table surrounded by others, the duo set the stage for a captivating on-screen moment.
As the scene unfolded, the short video showcased Funny Face engaged in dialogue before taking a significant pause.
In a bold move, he turned to Jackie, who is positioned to his left and aimed for a kiss on her lips.
Funny Face instantly forgot his line to the surprise of the crew and became confused right after his kiss.
Watch video below
WATCH Our latest Episode with Kennedy Agyapong in South Africa below:
Source: www.ghanaweb.com