VIDEO: Vehicle carrying paint runs into workers on the Tarkwa Highway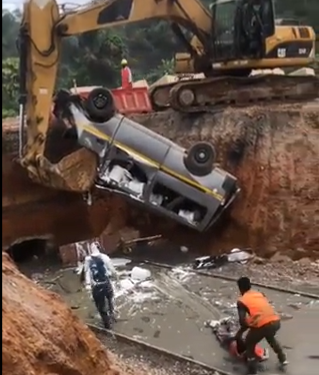 An unfortunate incident transpired on the Tarkwa Highway in the Western region when a vehicle loaded with paint collided with workers stationed on a bridge at the location.
A social media video posted on the X app displayed the aftermath of the incident.
The video depicted an unidentified individual, presumably one of the workers involved in the accident, being pulled out of the vehicle.
In the footage, fellow workers could be heard urging others to provide immediate assistance to the injured party.
The exact cause of the accident remains unclear.
However, reports from users commenting on the post suggested that this was not the first incident to occur at the specific bridge.
The video raised concerns and drew attention to the safety hazards encountered by workers on the bridge, prompting discussions about previous accidents that had taken place in the area.
Further details surrounding the severity of the injuries sustained or the circumstances leading to the accident were not immediately available.
The authorities are anticipated to investigate the incident to determine the root cause and address any potential safety concerns related to the bridge.
Watch the video below: