Top African football clubs to participate in US-Africa Championship Cup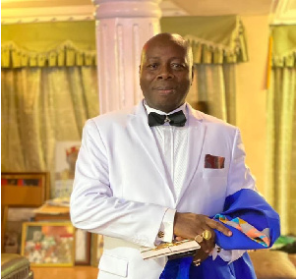 The World Diplomatic Federation and its affiliate Sports Afrique Internationale as part of the forthcoming US AFRICA COMPANIONSHIP CUP – USAC CUP, 2024 are putting in all necessary measures to guarantee the success and memorability of the event.
It is a partnership with the Ministry of Youth and Sports and the Ghana Football Association (GFA) and it is expected to heighten the league competition that will be hosted by the National Premier Soccer League (NPSL) in the United States of America.
The effort of the Ministry of Youth and Sports is hopeful to be enormous since Ghana football clubs will be the cynosure of the tournament. WODIF is confident in the Minister for his leadership capabilities, exerted in teamwork, thus yielding great progress ahead of the tournament.
The Supreme Governing Council of WODIF Africa is notable for distinguishing Ghana's historic achievement in sport, forestalling the Ghanaian football clubs participating in the US AFRICA COMPANIONSHIP CUP- USAC CUP, to take heed of opportunities ahead of time.
The World Diplomatic Federation ostentatiously in factual terms is contented with President Kurt Okraku of the Ghana Football Association for his relentless hard-working capabilities, convalescing Ghana's position on FIFA records.
"We believe in a space of time, Mr Kurt Okraku will introduce new ways to advance hope in the Black Stars of Ghana, Ghanaian spectators to get active again. The organization timeously putting modalities together to ensure the ten African countries participating in the US AFRICA COMPANIONSHIP CUP – USAC CUP, 2024 including Ghana, Nigeria, Cameroon, Kenya, Ethiopia, Ivory Coast, Liberia, South Africa and Morocco facing the United States National Premier Soccer League will get on heels," a release from WODIF stated.
On the African front Ghana will be represented by Aduana F.C. [Men's Club], Dreams F.C. [Men's Club] and Ampem Darkoa F.C. Ladies F.C. [Women's Club] and Hasaacas Ladies F.C. [Women's Club], Nigeria will be represented by Bayelsa F.C. [Men and Women Club], Enyimba F.C. [Men's Club], and Enugu Ranger F.C. [Men's Club], Kenya – Thika Queens and Vihiga Queens [Women's Clubs], Ivory Coast also comes with ASEC Mimosas F.C. [Men's Club], Lisccr F.C [Men's Club] will stand in for Liberia, Mamelodi Sundown F.C will together with Orlando Pirates F.C [Men's Clubs] represent South Africa and together with Wydad Casablanca F.C. [Men's Club] to play with the American counterparts namely Atlanta United, 865 Alliance, Apotheos FC, Appalachian FC, Charlottetown Hops FC, Georgia Revolution FC, Georgia Strom, Atletico DE Miami Beach, Global Soccer Pathways, Miami Dutch Lions FC and Naples United FC.
An initiative of time periods has been fixed for a launch, USAC CUP Corporate Conference and Balloting for all matches to take place on the 3rd – 7th February 2024 at Silverbacks Stadium in Atlanta, Georgia as a preliminary for representatives from the United States and Africa to know themselves briefly as they converge. The days set ahead will bring media houses in the United States and Africa together for coverage.
Media houses like ESPN, and Fox Sports, are geared onward in promoting the event, developing and creating thrilling to advance player-by-player hypes. Several advertising efforts are being put together to supervene massive audience participation in the long run. And in the same vein, African countries participating in the USAC CUP will soon begin promoting the event.
The organization is looking forward to partnering with FOX SPORTS or ESPN to broadcast live throughout Africa. This will be an expedition to project the USAC Cup to utmost peddle opportunities for Africans in the global football fraternity.
We have officially requested the presence of the Ministry of Youth and Sports, GFA and the Diaspora Affairs under the Office of the President of the Republic of Ghana to come along with us in the United States.
Sports Afrique Internationale as an affiliate partner to the World Diplomatic Federation will by next year begin player scouting and tactical scouting exercises within the subregions of Africa to look for football players to play in the United States National Premier Soccer League – NPSL. The purpose is to evaluate the talent of footballers with a view to signing them on professional contracts for their employers.
This exercise will be a warm effort to call for collaboration with the Football Associations of Federations in Africa to get refined football talents to fit in the professional or premier league in the US.
The organization will focus on technique, tactical awareness, physical attributes, competitiveness and good behaviour. The US COMPANIONSHIP CUP – USAC CUP will go a long way to create a platform for African football clubs to get international business opportunities in terms of sponsorships, affiliations and grants based on successful performance.
The World Diplomatic Federation and its partners have set up several platforms to engage many club administrators to participate in buying players, and creating souvenirs for players who will perform creditably well during the tournament to get clubs in the US.
Our mission is to open up to teamwork, player management support, leadership, initiative, planning, communication, self-motivation, cultural awareness, and commitment among nations as we hope to sustain peace, and tranquillity among individuals, communities and nations through football games, and thus at end, helping young people to get jobs, saving lives and evening being ahead of changing the world.
World Diplomatic Federation Conventional would want to attach fund raise ceremony to support health-related cases facing Africa, especially children living with HIV AIDS, Cancer, Dialysis, Cholera, TB and Polio, which are considered to support individuals and communities.
The organization will voluntarily request clubs and management to aid in promoting United Nations Sustainable Development Goals – SDG as WODIF and Rectitude International Mission "RIM" stands in affiliation with United Nations Economic and Social Council – ECOSOC to emission UN objectives.
We are bent to support the global peace and international economic order set as prescribed rules, norms, and procedures that regulate the cross-borders as we collaborate with countries worldwide.
Source: www.ghanaweb.com