Suspected terrorists shoot Ghanaian driver at Burkina Faso border, burn several trucks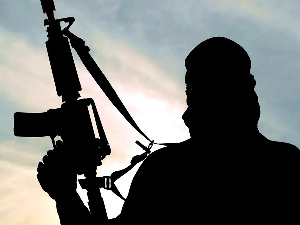 A Ghanaian driver, transporting food items from Niger to Ghana has been shot by suspected terrorists at the Burkina Faso border, Joynews reports.
According to details provided by Joynews, the drivers of the trucks decided to use the Burkina Faso route as an alternative after the closure of the Niger borders following the military coup.
The trucks which tried going past the Burkina Faso border after waiting without success for security escorts were met by a group of terrorists who attacked the drivers of the vehicles.
They also reportedly burnt a number of trucks; about 4 to 15 in total.
Massahoudu Dambala, owner of the Damabala Enterprise which owns some 35 trucks involved in the carting of food items from Niger to Ghana narrated what happened to Joynews.
"They were standing there waiting for escorts but they were not coming so one of the cars decided to go ahead and when they succeeded, ours also said let's try and see. Immediately we started moving, the jihadist people started coming out.
"They tried to stop them but they refused, not knowing that they were many. They started shooting them so some of them returned and some abandoned their trucks.
Our car was in front so when they got there, they burnt the car. The car had about 450 bags of beans so they burnt the car together with about 3 or 4 cars," he said.
He however confirmed that the driver survived and is receiving treatment in a medical facility in Niger.
Meanwhile, other trucks containing food items including onions have been abandoned with the content rotting away.
Source: www.ghanaweb.com