Riyad Mahrez bids farewell to Man City after joining Al Hilal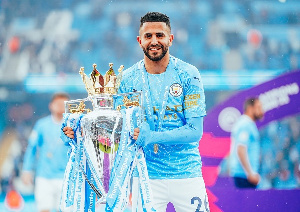 Algerian winger, Riyad Mahrez has said his goodbye to Manchester City after completing his deal to Saudi Arabian side Al Hilal.
Mahrez took to Twitter to pen a lengthy farewell message in which he showed gratitude to the club, coaches, and players.
"Today marks the end of an unforgettable chapter in my life, a five-year journey filled with countless memories. Before leaving, I wanted to thank the board, the manager, and the staff for giving me the chance to prove myself at the highest level.
"To my teammates, both past and present. Sharing the pitch and the dressing room with you has been a pleasure. Together, we've broken countless records, achieved what seemed impossible, and never stopped believing in ourselves during the challenging times we faced. Our last season will forever be remembered in our Club and beyond, and I'm proud to have been a part of it."
His departure ends his five-year stay at the club. He scored 78 goals and provided 59 assists in 236 appearances.
He won 11 titles during the period, including a treble in the 2022/2023 season.
Riyad Mahrez joined Al Hilal for a £30 million transfer fee. He has penned a four-year deal, running until June 2027.
Source: www.ghanaweb.com