Six reasons why Inter can do the impossible and beat Man City in the Champions League final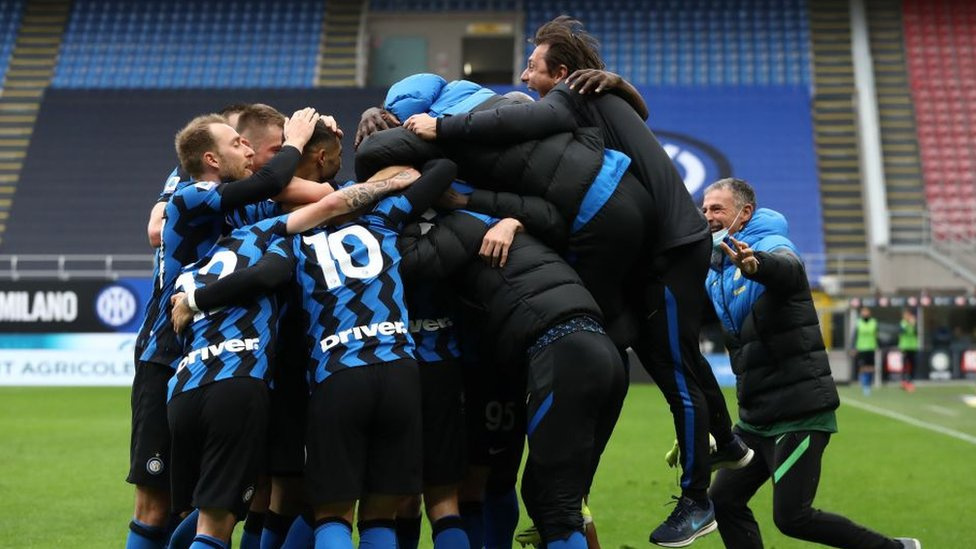 The Nerazzurri are being written off by many pundits ahead of Saturday's showdown in Istanbul but a massive upset is not out of the question
Earlier this week, Simone Inzaghi declined a request to put a percentage on Inter's chances of victory in the Champions League final. It would have been a waste of his time. He and his players are already acutely aware of the size of the task ahead of them in Istanbul. The only thing that they need to figure out right now is how to overcome it.
"We know we're going to meet the strongest team in the world, which has won the Premier League five times in the past six years," Inzaghi told reporters on Monday. "They have a fantastic squad and a coach who has defined an era. In modern football, there is a before and after Pep Guardiola."
And, in the eyes of many, many neutrals, the Catalan will now cement his status as the best coach in the world by winning a first Champions League without the help of the greatest player of all time, Lionel Messi. Some even believe that victory is a foregone conclusion for City; that Inter have "no chance" of overcoming a team that Fabio Capello has claimed have "no weaknesses".
But while Guardiola's treble-chasers are an outstanding side, perhaps the greatest the Premier League has ever seen, they can be beaten.
Below, GOAL outlines why Inter can achieve the seemingly impossible by stunning City – and the entire footballing world – on Saturday night…
It's a one-off game – anything can happen!
Man City the heavy favourites going into the final – as low as 1/6 with some bookmakers – and that's perfectly understandable. We're talking about a starting line-up so strong that Phil Foden, Riyad Mahrez and Julian Alvarez are likely to have to make do with a seat on the bench.
Over two legs, their superior class would eventually tell. It certainly did in the semi-final rout of Real Madrid – and not even the staunchest Inter supporter would argue that Simone Inzaghi has, on paper at least, a stronger squad than Carlo Ancelotti.
But this is a one-off game and, while it sounds cliched, former Inter midfielder Paul Ince was right when he told the Gazzetta dello Sport, "Anything can happen. This is football: what you think beforehand can often be turned on its head afterwards. An individual mistake, a ball bouncing this way or that, someone's bad day, a VAR decision – so, when I say anything can happen, I mean it!"
Simone Inzaghi: Cup-final specialist
Of course, the real reason why Inter supporters are quietly optimistic about pulling off the biggest Champions League final upset in nearly 20 years is Inzaghi, who has proven himself something of a specialist in one-off encounters.
The former Lazio boss lost his very first – the 2016-17 Coppa Italia final against Juventus – but has now won seven in a row, including all four he has faced to date in his two seasons at Inter.
He's benefited from a bit of good fortune along the way – the Nerazzurri didn't play particularly well in last month's Coppa Italia final win over Fiorentina, for example – but his coaching credentials can no longer be questioned.
The 3-5-2 formation could be a decisive factor
After Inter concluded their Serie A campaign with a 1-0 win at Torino last Saturday, DAZN pundit and former Italy international Emanuele Giaccherini advised Inzaghi to attack Manchester City out wide based on what he'd seen in the FA Cup final earlier in the day.
"Their wingers are unaccustomed to defending inside their own penalty area," Giaccherini argued after City's 2-1 win over Manchester United. "They try to win back the ball immediately, but aren't good under pressure in their box."
Pushing Jack Grealish and Bernardo Silva that far back is easier said than done, of course, but simply by virtue of the layout of Inzaghi's 3-5-2 formation, both Federico Dimarco and Denzel Dumfries will be in a position to not only apply immediate pressure to the City duo, but also attack the space in behind them when Inter are in possession.
Inter's counter-attacking threat
So much of the build-up has focused on what Inter have to do to stop City – and so little on how they can hurt them. That makes sense, to a degree. Erling Haaland-led City are the tournament's top scorers, with 31 goals, while Inter have kept more clean sheets than anyone else (eight).
However, while Guardiola can obviously call about a ridiculous amount of world-class offensive players, Inter are hardly devoid of an attacking threat, particularly on the break. As City legend Sergio Aguero has already flagged, the Nerazzurri have some serious firepower – and it should be respected.
Lautaro Martinez is Inter's danger man for the big occasion, as he has proved time and time again in Milan derbies, and most recently with his double in the Coppa Italia final win over Fiorentina.
The Argentine may have underwhelmed at the World Cup, but he is in the form of his life, having already hit a career-high 28 goals in all competitions this season.
An under-rated midfield
Inzaghi doesn't just need to pick Lukaku ahead of Dzeko, though, he also has to make sure he includes Marcelo Brozovic in his starting line-up.
If Henrikh Mkhitaryan is passed fit to start, there will be a temptation to recall the Armenian, who was in fine form before his injury, to the midfield alongside Hakan Calhanoglu and Nicolo Barella.
However, Brozovic – just like Lukaku – is finally back at something approaching his best after an injury-interrupted campaign that was undeniably affected by the World Cup.
It's been taken as a given that City will dominate possession, but with Brozovic on board, Inter would have the ability to not only win the ball back regularly, but also use it effectively. Particularly if the excellent Barella is on top form.
All the pressure is on City
There seems little chance of a sense of complacency creeping into the City camp. Guardiola is too good to let that happen. And besides, for all the self-belief you see in the likes of Haaland, this isn't a particularly cocky group of players.
"Because it's a final against an Italian team, people will say we are favourites and that is the worst that can happen," Guardiola told reporters. "But there is one incredible detail in this team that I'm so proud of – they are so humble. It doesn't matter the competition, they take every game seriously because they are so humble."
And they are going to take this game more seriously than any other. But that in itself could be an issue. Make no mistake about it: all of the pressure is on City going into this game, and pressure does funny things to players, and coaches, in fairness.
Source: goal.com