Argentine women's footballer 'forced' to explain Cristiano Ronaldo tattoo after anti-Messi accusations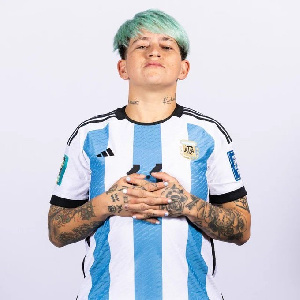 Argentina forward Yamila Rodriguez has explained her Cristiano Ronaldo tattoo, insisting that she has "nothing against" Lionel Messi.
WHAT HAPPENED? Rodriguez has a number of tattoos, with Portugal striker Ronaldo and Argentina's World Cup-winning icon Diego Maradona on her left leg. Of course, Messi has a historic rivalry with Ronaldo, with the pair having locked horns in La Liga when the former played for Argentina and the latter featured for Real Madrid.
Rodriguez, per The Athletic, had been accused of being anti-Messi due to her tattoo of the current Al-Nassr star, but she maintains he simply inspired her more than her compatriot.
WHAT THEY SAID: She wrote on Instagram: "Please, enough. I'm not doing well. In what moment did I say I was anti-Messi? Stop saying things that I didn't say, because the truth is I'm not doing well (in the middle of a World Cup where I'm representing my country.) I'm not doing poorly because of you guys, but because of the awful things you're saying, without respect. One can't have an idol, or a player that they like? Please.
"I never said I'm anti-Messi and never would be. He is our captain of our national team – me saying that my inspiration and idol is CR7 (Ronaldo) doesn't mean that I hate Messi. Just to me (we can all like different things) I like the other player better, the one that inspired me.
"What's the problem? We're not all obligated to love the players from our own country. Please understand that this is football and everyone has their own preferences and that lifting one player up doesn't mean burying the other."
THE BIGGER PICTURE: Rodriguez came off the bench as Argentina lost their opening game of the Women's World Cup against Italy, going down 1-0. She plays her club football for SE Palmeiras in Brazil.
Source: goal.com