Reactions pour in as Ama Governor tackles Chief Justice over bar admission controversy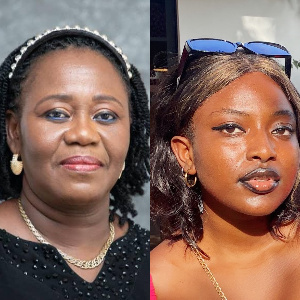 The social media sphere has erupted with reactions after Elorm Ababio, known as Ama Governor, responded to Chief Justice Gertrude Torkornoo's recent justification of the General Legal Council's decision to bar certain individuals, including herself, from being called to the Bar.
Ama Governor, a law student, had her Call to the Bar suspended despite passing all required examinations, due to a petition filed against her conduct by one Hajia Siduri.
The bar admission controversy involving Ama Governor has ignited a storm of reactions across various social media platforms.
Users on Twitter have weighed in on the issue, with a mix of support, scepticism, and advice for the social media influencer.
One user remarked, "You want to be called to the bar? Do what's required then."
Another user took a different approach, suggesting that Ama Governor should seek asylum at the American embassy and claim persecution due to being a flagbearer for some cause.
A user added, "Now you can't work and your life is being threatened due to your sexuality." This comment raises concerns about potential threats to Ama Governor's safety and the impact of her non-admission on her life and career.
A third user advised Ama Governor to move on from the situation and start anew. They noted, "Your image will continue to be tarnished because there's vivid evidence for what the cause is for denial to the bar… just understand say you do yawa." The user emphasizes the importance of accepting past mistakes and moving forward.
Bringing up the LGBTQ aspect, another user stated, "The LGBTQ PART no d3 u ho explain tire but enfa in Ghana, we value morals a lot so for dat part nkoaa d3 u wadi agu madam. I am not in support of them not calling u but the LGBTQ nsem no nti mentumi ka bi ma wo madam they ll never call u ay3ka sorry." This comment reflects the complex intersection of LGBTQ rights and traditional values, which may have played a role in the decision.
Some users cautioned against being overly defensive and emphasized the need to find a solution to the situation. "Trying to be overly defensive and not finding a problem to your solution would rather make your situation worse… I wish you well," one user said. This advice encourages a more measured approach to resolving the matter.
The reactions from social media users reflect the diversity of opinions surrounding Ama Governor's case.
The situation has ignited passionate discussions about the legal profession, ethics, LGBTQ rights, and the importance of transparency and accountability.
As the social media conversation continues, it remains evident that Ama Governor's case has struck a chord with the public.
The widespread engagement on various platforms underscores the significance of the issue and the demand for justice and fairness.
Scroll below for social media reactions:
WATCH Our latest Episode with Kennedy Agyapong in South Africa below:
Source: www.ghanaweb.com