Nima residents blast govt over destruction of their properties to allegedly construct an Agenda 111 facility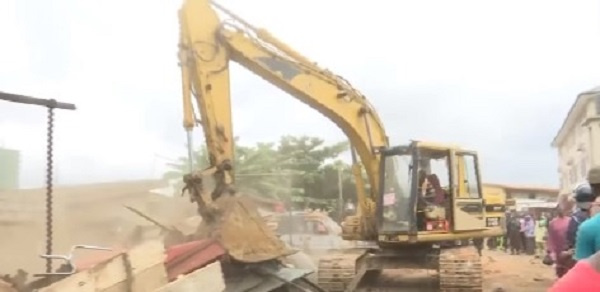 Some residents of Nima, a suburb of Ghana's capital town, Accra, have been left infuriated by the decision of the government to destroy their properties to allegedly put up an Agenda 111 facility.
According to reports, nearly 300 structures were destroyed during the demolishing exercise which took place on Wednesday, August 16, 2023.
Some of the structures destroyed include homes, mechanic shops, air-conditioning repair shops, schools, and churches, among others.
Some of the residents who spoke to the media indicated that the land had been earmarked for an Agenda 111 project and accused the Municipal Chief Executive of the Ayawaso East Assembly, Hajia Salma Sank Adams, of being behind their forced eviction.
They indicated that even though they had been notified to move, they were not informed that their properties were going to be brought down on that day.
"We have been here for 30 years and just two weeks ago were got the hint that the woman (Salma) is coming to destroy our properties for Agenda 111 which we don't understand.
"Because this is the Nima Government Hospital, we have Mamobi Polyclinic, Ridge Hospital is there, 37 (Military Hospital) is also there. Are we Nima people that sick," one of the residents who spoke to GHOne TV said.
"I don't understand Akufo-Addo, he stays here with us and he knows what Nima people can do," another man said.
Another resident wondered why the government would be destroying the businesses of Ghanaians in these difficult times.
"The people have been sober and they are learning their apprenticeship and trade and you want them to do what. Already Nima people have been tagged as armed robbers and criminals and now we are working and you are saying, you don't want us to work. So, what do you want us to do, you want us to pick up guns," he asked.
Watch a video from the scene of the demolishing plus the comments by the residents below:
Source: www.ghanaweb.com