'Learn on the job' – Mr. Logic clashes with 'unprofessional' MzGee on UTV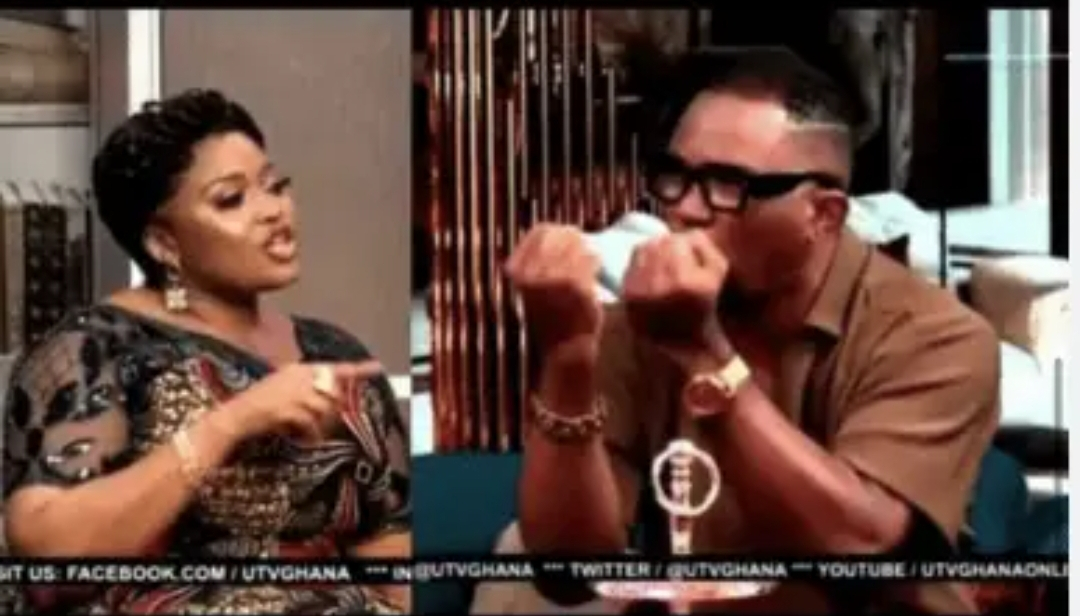 A heated confrontation between Mr. Logic, an entertainment pundit, and MzGee, the host of UTV's "United Showbiz," unfolded during the August 12, 2023 episode of the show.
The exchange that triggered the incident was focused on challenges faced by local artistes in breaking boundaries within the international music industry.
Mr. Logic, a regular panelist on the show was expressing his viewpoint on the topic when MzGee, interjected asking him to wrap up his remarks.
She claimed that the audience might be disengaged, drawing attention to another panelist, A Plus, who was yawning.
Her comment incited Mr. Logic leading to a heated verbal exchange between the two public figures.
Mr. Logic accused her of being unprofessional and needing to learn on the job.
MzGee, however, defended her decision, explaining that the show was approaching midnight and suggesting that Mr. Logic had spoken extensively.
Read excerpts of their conversation below:
MzGee: You see the way he is yawning, that is the same way people are also yawning in their houses, so wrap up and let us end it because nobody is listening anymore.
Mr. Logic: Why are you saying that?
Megee: Please hurry up and end
Mr. Logic: MzGee what are you saying, no. It is wrong for you to say that. If they are yawning what is my concern? Because I am making my point
MzGee: Hurry up and let us close
Mr. Logic: No, you can't say that I should wrap up and let us close, MzGee let me say this, for the first time I need to tell you this…it is your show that you are moderating, you cannot tell me what to…did you tell Kaywa that people are yawning?
MzGee: It is 12 midnight, and you have been speaking for too long
Mr. Logic: Do you know what? MzGee don't come to me to speak because I won't speak again, what are you telling me?
MzGee: Ok that is fine, it is 12-midnight
Mr. Logic: 12 midnight and so what, did you time Kaywa, did you give him time?
MzGee: He has spoken more than anyone here
Mr. Logic: Where is your time, did you time me?
MzGee: You could have spoken and stopped the argument …A Plus will you talk! …I am the one moderating the show you are a guest …so sit down and don't talk.
Mr. Logic. Then don't come back to me to talk, what kind of impudence? What do you mean by they are sleeping? Go around, don't talk to me, what are you talking about? What do you mean by they are sleeping? They are sleeping for what reason? …What disrespect, come on? Don't even tag me with this again…stop what you are saying.
MzGee: Stop what you are saying also
Mr. Logic: You are making me angry
MzGee: You can be angry if you want
Mr.Logic: This is unprofessional on her part, it is unprofessional…it is unprofessional for a moderator to tell a panel that they are sleeping, it is unprofessional, I am telling you, please! Learn on the job, learn on this job, you don't say this…don't tell me what you are saying, learn on this job.
Watch the video below: From 2:37:08/4:18:04
WATCH our latest episode below:
WATCH Our latest Episode with Kennedy Agyapong in South Africa below:
Source: www.ghanaweb.com