'I have four spirits protecting me' – Kofi Pages explains why he attacked Azuka on his TikTok live without fear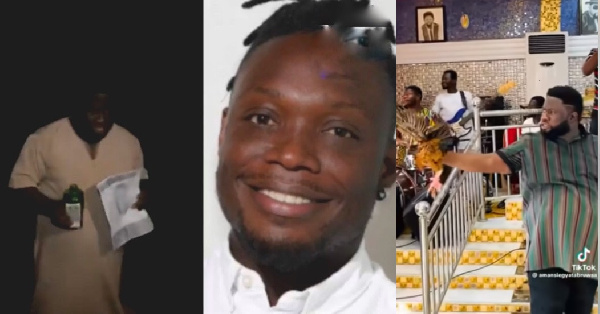 Kofi Pages, a Ghanaian residing in Germany who came into the limelight after he attacked controversial Ghanaian Prophet Azuka on his TikTok live has explained why he felt emboldened to confront the prophet without any fear.
According to him, he is protected by at least four spirits and it was on their directions he acted ignoring any consequences.
Speaking on Oforione TV, he explained that, he does not have fear for anything because he is never alone. He operates with spirits who direct and protect him.
"Kofi is not afraid of anything. Kofi has no fear and it is because I walk with four at least four spirits whose names I cannot make public. So fear is captured from all directions it may attack me from", he reiterated.
Kofi Pages revealed that prior to his banter with Prophet Azuka, it had already been revealed to him by the spirits that the clergyman will try to publicly intimidate him after their encounter, so he was aware and was expecting Prophet Azuka to put up a public show.
He recounted, "the spirits told me that if I deliver their message to Azuka, he would do something public to show that he is attacking, so I knew and when I saw it happen, I wasn't afraid, rather it encouraged me to say more of the truth."
In a recent TikTok live session hosted by Prophet Azuka to interact with his followers, Kofi Pages requested to join the conversation, fully aware that he would disgrace the controversial prophet.
Without provocation, Kofi Pages characterized Prophet Azuka as an ignorant thief who exploits the gullibility of naïve Ghanaians to enrich himself.
Prophet Azuka was visibly rattled by the severity of Kofi Pages' insults, and he struggled to find an appropriate response to the scathing assault.
The prophet's inability to provide a convincing defense has increased public doubt regarding his credibility and legitimacy as a spiritual leader.
The confrontation exposed Azuka's vulnerability, causing many to doubt his claims to be Ghana's only genuine man of God.
WATCH our latest episode below:
WATCH Our latest Episode with Kennedy Agyapong in South Africa below:
Source: www.ghanaweb.com