I quit acting after I was described as the 'Denzel Washington of Africa' – Majid Michel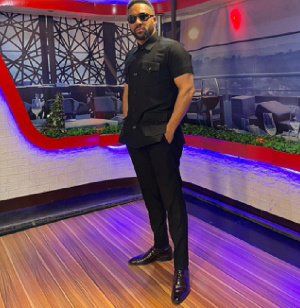 In 2012, the popular American romantic television series, 'Think Like a Man', written by Keith Merryman and David A. Newman was premiered.
The movie featured famous American actors like Gabrielle Union, Kevin Hart, Regina Hall, and Meagan Good.
Fortunately, some Ghanaian actors were invited to the premiere which took place in Los Angeles, Hollywood, and among the actors who were present at the premiere was Majid Michel.
The actor in a recent interview with Afro 614, shared by Hello Frank on YouTube, stated his excitement when he got the invitation and also disclosed that he stopped acting a month after he was announced publicly on the premiere stage as Africa's Denzel Washington.
He said: "Do you know Kevin Hart? Do you know the movie 'Think Like a Man'? I was invited to the premiere; I was there. I was going down with Meagan Good, Gabrielle Union, and Kevin Hart. Right after that, I was introduced to the entire cinema hall as the 'Denzel of Africa'. It was that year and a month after that I stopped filming. I have no idea why I stopped filming".
The popular Ghanaian actor explained to the host that he knew at the moment that he had attained his dream.
Majid continued by saying when he began his acting career, he always dreamt of getting recognised in Hollywood and since that dream was achieved, he had no reason to continue acting.
He also disclosed that the end of his acting career paved the way for him to become a preacher of the gospel.
"That was my dream, that was where I wanted to be and the area of the people I wanted to be with. That was my dream, I wanted to go and do a film in Hollywood After I stopped filming, I started doing church, like learning and teaching ", he said.
Watch the interview below
Source: www.ghanaweb.com