Zionfelix gifts himself a new house on his 32nd birthday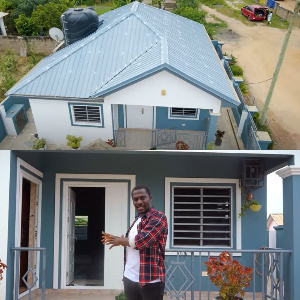 Ghanaian blogger and media personality, Zionfelix, has celebrated his 32nd birthday by purchasing a new house.
The news of his extravagant gift to himself quickly spread across various media platforms, drawing congratulations and admiration from his fans and peers.
Zionfelix, widely recognized for his successful career as a blogger and his engaging interviews with renowned celebrities, took to his YouTube channel and other social media accounts to share the exciting news with his followers.
He expressed deep gratitude to God for the blessings in his life and proudly unveiled his newly acquired property.
The blogger's intention for the house is to refurbish it into a modern and stylish space that can be rented out for short stays.
By taking this step, Zionfelix aims to expand its investments and diversify its income streams. The acquisition of this house serves as a testament to his hard work, determination, and the progress he has made on both personal and professional fronts.
As the news broke, social media platforms were inundated with congratulatory messages from netizens.
People flooded the comment section with their well wishes, praising Zionfelix for his accomplishments and expressing their hopes for his continued success.
Source: www.ghanaweb.com