The streets of Paris and eight other French cities were deserted on Saturday night as a new curfew was enforced.
The controversial overnight curfew is aimed at curbing the soaring Covid infection rate in France, which is one of Europe's coronavirus hotspots.
There have been complaints from restaurant owners, whose businesses are already suffering after the two-month lockdown in the spring.
New measures are also to be announced in Italy due to a rise in cases.
Italy, which was the first European country to be hit significantly by Covid in the first wave, registered a record number of new daily cases on Saturday.
Italian Prime Minister Giuseppe Conte will announce fresh restrictions on Sunday.
Local media said the new rules could target non-essential activities including gyms, pools and amateur sporting events.
In France, about 20 million French people are covered by the month-long curfew in cities including Marseille, Lyon, Lille and Toulouse, as well as the capital. The curfew runs from 21:00 to 06:00 every night.
President Emmanuel Macron said the curfews were necessary to avoid the risk of hospitals being overrun.
But many are concerned about the effect it could have on businesses.
"There will surely be employees who will lose their jobs," Stefano Anselmo, manager of Italian restaurant Bianco in Paris told the Reuters news agency. "It's a disaster."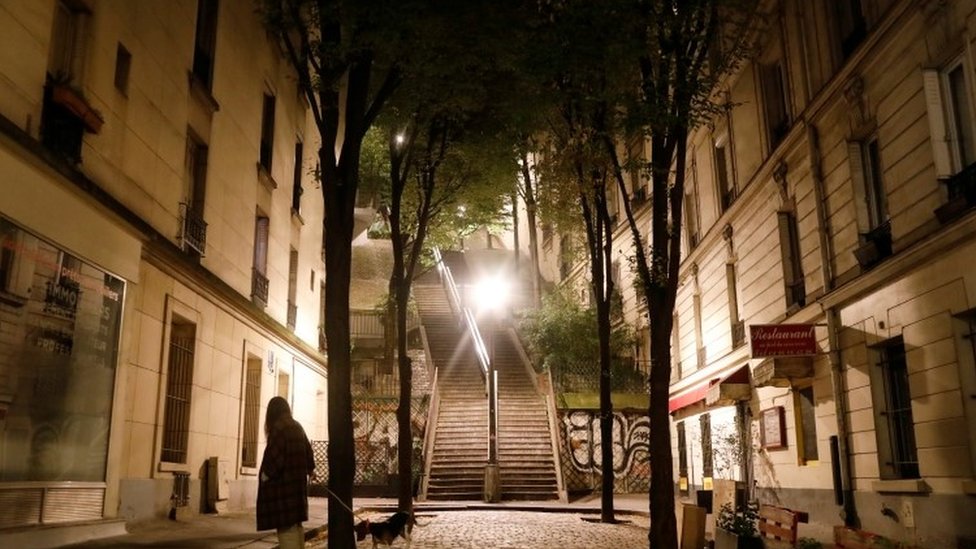 France reported a record number of new cases of the virus on Saturday – a rise of 32,427, the health ministry said. A day earlier the country recorded 25,086 new infections.
What is the other Covid news from Europe?
Slovak Prime Minister Igor Matovic has said the country will test every person aged 10 and older for coronavirus amid a surge in confirmed cases and deaths.
The government declared a state of emergency earlier this month, and introduced new restrictions this week – including a ban on church services and other mass events, the closure of fitness centres and pools, and a switch to remote learning for schools.
"Testing will be free of charge," Mr Matovic announced at a press conference, but didn't clarify whether it would be mandatory or voluntary.
"If we manage to pull this off, we can set an example for the entire world."
Slovakia has a population of 5.4 million.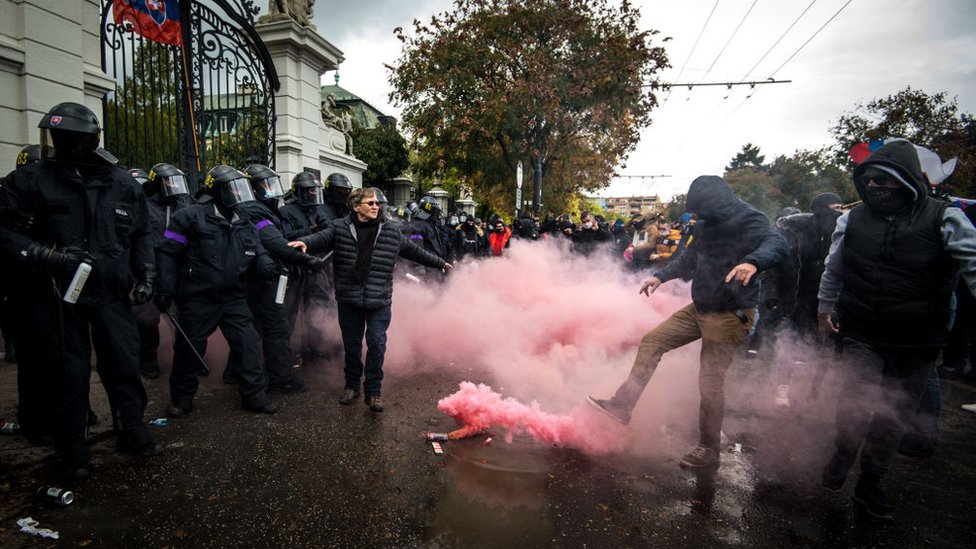 Protesters attacked the offices of the Slovak government on Saturday over measures to stem the spread of Covid-19.
The crowd, made up of about 500 neo-Nazis and hardcore football fans, threw bottles and stones at the building in the capital Bratislava.
In Germany, Chancellor Angela Merkel has urged people to stay at home as Covid cases continue to surge.
"We have to do everything to prevent the spread of the virus from getting out of control," she told a weekly video podcast.
"Every day counts. Meet with fewer people, either at home or outside. Please refrain from any journey that is not absolutely essential, every gathering that is not absolutely essential. Stay in your home, where at all possible."
Spain saw 11,000 more deaths between July and October than in the same period last year, according to El Pais newspaper. This is double the number of Covid deaths reported in these months – the official number from the health ministry is about 5,400.
In a statement, King Willem-Alexander and Queen Maxima said: "We see people's reactions to media reports. They are intense, and they affect us. We do not want to leave any doubt about it: to get the Covid-19 virus under control, it is necessary to follow the guidelines. The discussion of our holiday does not contribute to that."
What are the restrictions in Europe?
On Thursday, Poland designated red zones where schools and gyms will close, including in the capital Warsaw
Schools in Italy's southern Campania region, including the city of Naples, are to close for two weeks
In Germany bars and restaurants in higher-risk areas must close early
In Portugal, the government said gatherings would be limited to five people from Thursday. Weddings and baptisms can be attended by up to 50 people but university parties will be banned
Catalonia also said restaurants in the Spanish region would only be allowed to serve takeaway. Gyms and cultural venues will be allowed to operate at 50% capacity, while shops and large shopping centres must be limited to 30% capacity
In the Netherlands, all bars, restaurants and coffee shops closed on 14 October except for takeaway; households can have a maximum of three guests per day
Movement is limited in the Russian capital Moscow, and from Monday senior schools (for children aged 13-18) will be closed