Video of Wole Soyinka mocking Obasanjo trends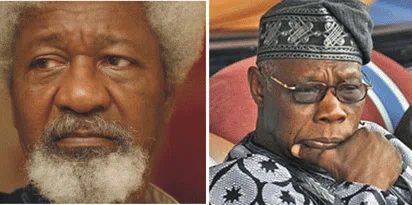 A video is making rounds of Professor Wole Soyinka mimicking former President Olusegun Obasanjo recent incident in Oyo state.
Recall that Obasanjo who was a special guest at an inauguration of some state projects ordered some traditional rulers to stand up and show respect for Governor Seyi Makinde.
This did not go down well with many Yoruba monarchs as they called for an apology from the former head of state.
The video of Obasanjo shouting at the traditional rulers to stand up and sit circulated and sparked massive uproar.
However, during an event, Prof Wole Soyinka who was about to deliver a speech mocked Obasanjo causing laughter among the crowd.
The video has since attracted some reactions from social media users who expressed their displeasure at Soyinka's attitude.
susylicious_hawt: Obasanjo is bigger than Wole Soyinka
firstladyship: Your so called professor acting like a child
oluwakemi._o: Well Olusegun Obasanjo nah military man. Once a military will ever be military
lavis9054: Again I don't care Obasanjo as done so much for this nation rather you soyinka than you have breed cultism to our people . No I see why the general as an higher standard
emmanuel.ofie: This white haired man whose legacy is starting cultism in Nigeria thinks he's in the same league with the best president Nigeria has ever seen lmao
jay.neral: Even if you tell them to stand up, they won't obey you so don't bother
mondayobinna1988: Wole Soyinka is a nobody when it comes to obasanjo. He's a local champion
Watch the video below;
Source: www.mynigeria.com