Trouble in obasanjo's home as estranged wife ridicules him publicly; calls him greatest imposter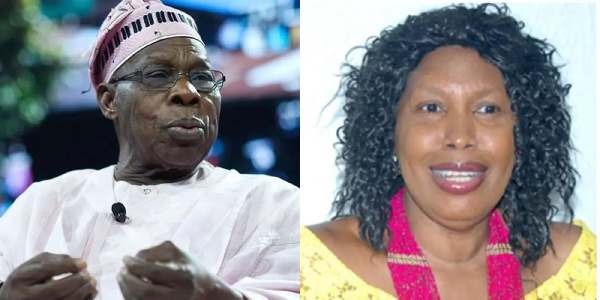 Former President Olusegun Obasanjo has been in the news following an incident that occurred in Oyo state during the inauguration of a state project.
It all began when Obasanjo ordered some Yoruba chiefs to stand up and show respect to a sitting Governo, Seyi Makinde.
According to the former head of state as per the constitution, the Governors are higher in rank than the monarchs.
The chiefs immediately rose on their feet before Obasanjo asked them to sit. This video sparked a massive uproar as several monarchs in the Yorubaland demanded for an apology else risk losing his chieftaincy titles.
Ms Taiwo Martins, an estranged wife of Obasanjo wrote a letter to the Oyo monarchs aplogising on the former president's behalf. However, Obasanjo who was not pleased with her apology disowned Ms Taiwo as his wife in a statement released by his aide, Kehinde Akinyemi.
He said; "For the records, Ms. Martins has two children, Jonwo and Bunmi, for Chief Obasanjo but to say emphatically that she is not his wife nor a member of the Obasanjo family.
"Her posturing as Chief Obasanjo's wife is false and that of an impostor. Nobody makes statement on behalf of the Obasanjo family except Chief Obasanjo or people delegated by him to do so.
"It must be noted that the state of health of Ms. Martins is known to all and sundry and whatever she says or does has nothing to do with Chief Obasanjo as an individual or the Obasanjo family as a whole", Obasanjo had stated.
In retaliation, Ms Taiwo issued a statement where she described Obasanjo as the greatest imposter of all time, liar, cheat, and deceiver.
She stated that the former president is still angry because she dumped him.
Ms Taiwo wrote;
"Obasanjo, the Greatest Impostor – The roar and ranting's of an old dying lion – laying claim to infallibility"
"I want the world to know that Chief Olusegun Obasanjo is the greatest impostor of all time, the liar, the cheat, the deceiver who now equates himself to the Almighty God and who now arrogantly believes that he has the unchallengeable power of life and death and to render totally useless whoever tries to point out any error of his or doesn't agree to any of his rigid almighty posture of methodology in handling issues.
"Once Daddy Obasanjo sees you as his perceived enemy who will not dance to his tune 100% he would go all out to destroy you. He would do all within his highly toxic evil network to destroy whoever offers a word of respectful caution to him.
"From a very poor humble beginning, God gave Daddy Obasanjo all that anyone could ever want in life, took him to the pinnacle in the Army and in the government of Nigeria.
"Since you left Dodan Barracks, you have been fighting all Presidents who came after you, seeing, talking, addressing them as no good. You have rubbished, abused, insulted, criticized, humiliated, fought, ridiculed every President who came to power.
"Are you the only ex-President we have in Nigeria? All our former Presidents, General Babangida, General Abdulsalami, General Yakubu Gowon, Dr Goodluck Jonathan etc they do not fight their children or wives nor ridicule people here and there in our nation.
"All our former Presidents in Nigeria comport themselves with dignity, they don't fight nor rubbish every successive President we have like you do.
"With all God has done for you, you are still very bitter and sadistic. Insanity has really caught up with you if you don't know.
"I repeat again with all respect to you sir that you are the impostor, who like Satan is masquerading as a solution to problems which you have created for us in Nigeria and Africa.
"You are the real problem, troubling the land of Nigeria, the people of Nigeria, troubling families and homes and the society at large. God gave you long life, good health, made you famous, gave you wealth, made you three times President of Nigeria, yet you couldn't give us beautiful roads and 18 or 24 hours electricity which others could build on.
"All you do is fight, fight, fight every President who comes to power after you instead of embracing them as your loving children to be mentored, supported and guided by you to give us excellent service that will bring comfort to us all in the whole nation.
"I am not mad. On the contrary, you are the one whose state of health is well known, who is miserable, deeply and secretly sorrowful great impostor who betrayed God Almighty who gave you several golden opportunities to rewrite the history of this great nation. You fail God too much and you have given much pain to God.
"Olusegun Obasanjo – you are the singular power tormenting many souls in Nigeria, in your family, in your children's lives – troubling and tormenting Nigeria and Africa. You are the unrepentant, arrogant, disdainful, contemptuous high principality – destroying Nigeria and Africa.
"At Close to 90, you are fighting President Tinubu. You fought Yar'adua, you fought Jonathan, you have fought every President in Nigeria since you left Dodan Barracks. Are you the only ex – President we have in Nigeria?
"As you enjoy putting people to shame, God Almighty will sponsor His own unavoidable shame and greater humiliation into your life."
Source: www.mynigeria.com