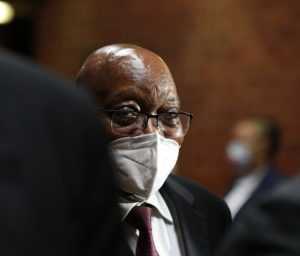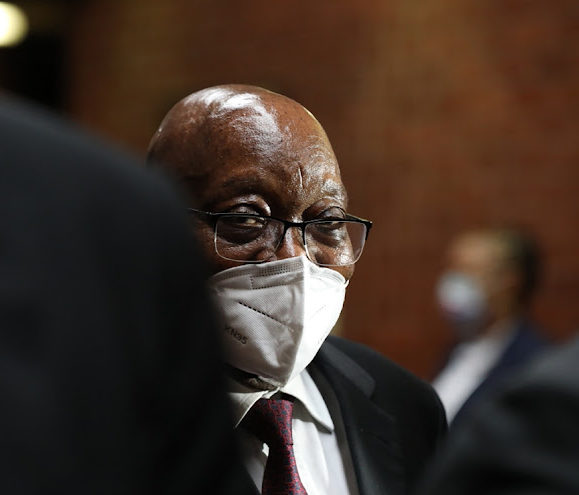 Former president Jacob Zuma is one of a number of South Africans who made headlines this year.
The death of Archbishop Desmond Tutu, a mysterious birth of 10 babies, protracted court battles involving former president Jacob Zuma and killing sprees are some of the news highlights of 2021.
Not only has the country battled the coronavirus pandemic and its multiple variants, but this year saw a myriad of jaw-dropping scandals and drama that shook the nation. On December 26, SA learnt of the death of Archbishop Emeritus Desmond Tutu.
Tutu, the last surviving SA laureate of the Nobel Peace Prize, passed away in Cape Town at the age of 90. He had battled prostate cancer for over two decades and was quite frail.
Many people will remember Tutu for his friendly demeanour, his self-deprecating humour and ability to light up any room. However Tutu's legacy also involves a strong sense of justice which he exercised tirelessly during the fight against apartheid.
His funeral will take place on January 1 and his ashes will be interred at St George's Cathedral in Cape Town.
The story of the "Thembisa 10″ left most South Africans confused.
The story made headlines in June this year when Pretoria News editor Piet Rampedi wrote the first article about the decuplets, but it was quickly criticised and shot down from various quarters — including the national and Gauteng health departments — for being untrue.
Authorities said they were unable to find any records of the births, even after calling the province's private and public hospitals.
TimesLIVE visited the family of the father of the babies a couple of days after Rampedi wrote the first article, and they confirmed their existence.
At the time, the family said the decuplets were in an undisclosed hospital in Pretoria "fighting for their lives", based on what they had been told.
The aunt said no pictures of the babies had been sent to the family as the mother could not go into the newborn intensive care unit with a cellphone.
While TimesLIVE was at the family home, Tebogo Tsotetsi, the father of the babies, was said to be in Cape Town to meet executive chair of Independent Media Iqbal Survé. It was at this meeting that the media company said it had donated R1m to the couple.
An inquiry into reports on the birth of the "decuplets" found that Independent Media was reckless in publishing the story without any facts corroborating what the father told the media group.
Meanwhile, the Gauteng health department said the mother of SA's so-called "Thembisa 10″ babies, Gosiame Sithole, had not given birth and was not pregnant "in recent times".
The provincial government said it would take legal action against Independent Media.
Zuma is another who made headlines after his refusal to appear before the state capture inquiry.
Through his legal team, Zuma again said he would not appear before the inquiry chaired by deputy chief justice Raymond Zondo. This despite a formal notice from the commission stating he was expected to appear.
After this, Zuma was in and out of court to defend his decision.
Subsequent to the commission filing an application to have Zuma charged with contempt for failing to appear before it, the Constitutional Court ruled that he be jailed for 15 months.
In July Zuma handed himself over to police to begin serving his 15-month jail sentence for contempt of court.
A couple of days after Zuma's incarceration at the Estcourt Correctional Centre, people took to the streets wreaking havoc in malls and shops in parts of Gauteng and KwaZulu-Natal where they looted and torched businesses causing R25bn in damages.
In September Zuma was released on medical parole eight days after he was admitted as an inmate in the correctional facility.
This decision was set aside by the high court in Pretoria which found that his release was unlawful.
"The decision of the first respondent (Mr Arthur Fraser at the time) to place the third respondent on medical parole, taken on September 5, 2021, is reviewed, declared unlawful and set aside," read the judgment.
Zuma has through his lawyers said he would appeal against the court decision. He was granted leave to appeal.
Meanwhile, news of an expat in New Zealand who allegedly killed her three children sent shock waves through the world.
Orthopaedic doctors Graham and Lauren Dickason's three young daughters were found dead in New Zealand, shortly after the family emigrated.
The mother of the three children was subsequently charged for the murder of twins Karla and Maya, 2, and their six-year-old sister Liane.
A confession made to police by 20-year-old Onthatile Sebati from Mmakau in Brits in the North West that she ordered a hit on her family in 2016 when she was 16 years old, also left the country shocked and confused.
Her father, police constable Solomon Lucky Sebati, 41, her mother Mmatshepo, 40, three-year-old brother Quinton and her eight-month-pregnant sister Tshegofatso, 22, were murdered by what was reported to be a gang at the time.
Former police officer Nomia Ndlovu stood trial for murdering and plotting to kill relatives to cash in life insurance policies. She has been described by former colleagues as a regular gambler who often bought them lunch.
She was sentenced to six life sentences for the string of murders she orchestrated, and for fraud.
The year 2021 saw the kidnapping of the Moti brothers — Zidan, Zayyad, Alaan and Zia — who were abducted, allegedly by seven gunmen, while being driven from their home in Polokwane's Nirvana suburb to the nearby Curro Heuwelkruin School on October 20.
The were finally reunited with their family in November, with no indication if ransom was demanded or paid.
On a lighter note, South Africans got a glimpse of how the marriage of a couple who won the hearts of many after their wedding proposal at a KFC outlet in 2019 was going almost a year after they tied the knot.
The couple said they were still madly in love with each other and were still looking forward to going on honeymoon.
TimesLIVE