Showed up! – Bawumia pays surprise visit to Ken Agyapong at home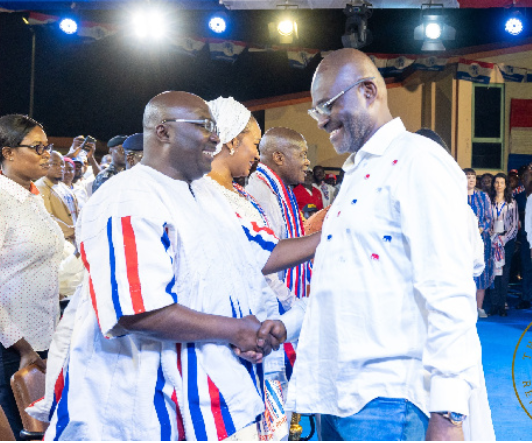 Vice President Mahamudu Bawumia met with his main rival in the New Patriotic Party (NPP) flagbearer race that took place on November 4, 2023.
The visit to Kennedy Agyapong's residence in Accra took place on Wednesday, November 8, 2023; pro-government Daily Guide newspaper reported in its November 10, 2023 edition.
Describing it as a "calculated political move," the newspaper said the meeting held over dinner "was aimed at renewing the bonds of friendship between the two influential figures as well as foster collaboration for the betterment of the nation as next year's election beckons."
No images or details of the said meeting have been released by either the camp of the veep or the Assin Central MP, who emerged as a major power broker in the NPP thanks to his surprise performance in the NPP presidential flagbearer race.
"Dr. Bawumia is expected to visit other aspirants and opinion leaders in the NPP as he tries to mend fences and build bridges ahead of the 2024 elections.
"The unexpected visit by Dr. Bawumia to his closest rival in the NPP presidential race demonstrated a strong commitment to unity within the NPP and the broader political landscape," the report added.
Bawumia is said to have hailed the immeasurable impact that Ken has traditionally given to the party at all levels stressing that they needed to team up to by puting the national interest above personal interests.
"They agreed to set aside any differences and work hand in hand to ensure the prosperity and development of Ghana," the report added.
The last time the two were sighted together publicly was on November 4 at the official announcement of Bawumia as the winner of the race, an event Ken was reportedly "forced" to attend.
In the November 4 vote, Dr. Bawumia polled 61.47% of the total votes cast by nearly 200,000 delegates of the NPP to emerge the victor, Ken Agyapong polled some 37.41%.
Speaking at an event to declare the vice president winner on Saturday night, Ken Agyapong promised to support Dr Bawumia's campaign for the presidency.
"This is the only thing I've been preaching, and I must admit this election is fair and my grassroots have spoken; therefore, I accept the results in good faith," Mr Agyapong said moments after the results was announced.
He pledged his support to the flagbearer-elect to help defeat the National Democratic Congress (NDC) and "break the eight."
"So, party members we should put everything behind us and let's unite this party…, I believe we can break the eight and that's what I've been preaching," he added.
Source: www.ghanaweb.com