3 explosive declarations Ken Agyapong made at Showdown Thanksgiving party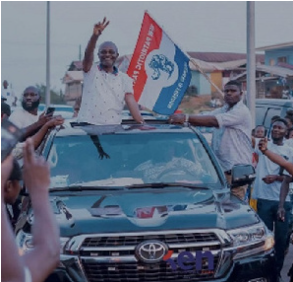 Assin Central Member of Parliament, Kennedy Agyapong, has stated that the recently-held New Patriotic Party (NPP) presidential primary was a contest between himself and the government of President Nana Addo Dankwa Akufo-Addo.
Addressing his campaign team and supporters on November 11 at an event held in Accra, Ken thanked his entire team for putting up a good fight.
His about eight-minute address was filled with gratitude, contained had jabs at some opponents as well as a hint at his political future even as he gets ready to leave parliament after 20 years.
GhanaWeb picks three explosive declarations the former presidential aspirant made.
Ken vs. the whole system:
Ken said he had been serially underetimated by opponents hence their surprise at the votes that he pulled.
"We went into a contest and as you know, you either win or lose. This contest was one man against the whole system," he said to cheers from the gathering that brought together campaign officers and supporters from across the country.
"They underestimated me, when the election was getting close, I was told I will get 10% maximum. Others floated a research finding that I will get 15%, today they are all hiding," he stressed.
We control over one-third of NPP
He assured the gathering that their influence in the party had been cemented after getting 37% of votes cast on November 4.
"Today, you are relevant in the party because we control more than one-third of the party so there is nothing they can do without consulting you. We've made a statement, there is no basis to be downcast," he submitted.
I will live to fight another day
The Assin Central MP also gave a hint at his political future tasking his followers to only continue to remember him in prayer.
"I know there is time ahead of us. I beseech you all to pray for me to get long life with good health, with that, the will of God will surely be done.
"Have belief that all is not lost, one day, one day, what God has ordained will come to pass," he stated adding: "it is only Ken Agyapong who loses a contest and throws a big party."
Aftermath of November 4
After the November 4 vote, Bawumia polled 61.47% of total votes cast by nearly 200,000 delegates to emerge victor in the party's flagbearer contest.
His closest contender, Ken Agyapong polled some 37.41%, a figure that shocked watchers and opponets alike.
Ken has since been commended by party members who had previously criticized him during the campaigns. Bawumia, this week, visited Ken at his residence in what is seen as early efforts to get him on board the 2024 campaign.
Source: www.ghanaweb.com