Police rescue 12 West African nationals, seize 15 laptops in suspected trafficking case at Kpone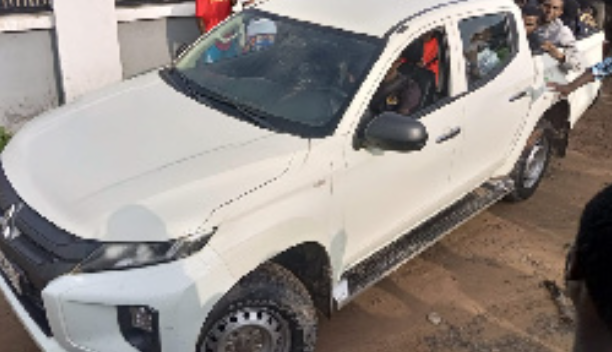 The Tema regional police command has discovered a suspected human trafficking syndicate in the Sebrepor community in the Kpone Katamanso Municipality of the Greater Accra region.
The operation by the police and the military personnel led to the arrest of two West African nationals, who, according to residents, were holding 12 other nationals in bondage on August 20, 2023, Myjoyonline.com report.
The police also found 15 laptops that were retrieved from a five-bedroom house where 12 Nigerians between the ages of 18-30 were allegedly compelled into engaging in cybercrime and subjected to severe maltreatment.
According to residents in the area, there has been disturbance of noise in the neighborhood for some time, which forced them to draw the attention of the police which led to the arrest of 14 occupants.
One resident in an interview with Joynews narrated how things panned out in the area leading to the apprehension.
"When the two police motorbikes arrived and forced their way into the house, they discovered twelve individuals who seemed hungry, their complexion almost pale, as though they were held captive. It was a dire situation. They were placed there, hungry. If they didn't secure clients, hunger awaited. They needed to work and deceive clients online before they could eat.
"It was undoubtedly against their will. One of the victims mentioned that they were confined there without food," a resident said according to Myjoyonline.com.
Assembly Member for Sebrepor Electoral Area, Prince Jacob Adjorvor, affirmed the report and noted that it took the efforts of the police and the military personnel to apprehend the suspected kidnappers.
"A combined team of police and military personnel was called in; we reached an agreement and proceeded. Upon entry, we counted 12 young men, along with their alleged leader, and approximately 15 laptops. These items were seized and subsequently transferred to the Emefs Police Station," Myjoyonline.com quoted him as having said.
The Tema regional police command is probing the case to establish the facts of the matter and deal with the suspects if found guilty.
Source: www.ghanaweb.com