'This record is unmatched by Nana' – Franklin Cudjoe jabs Akufo-Addo with Asantehene's destooling spree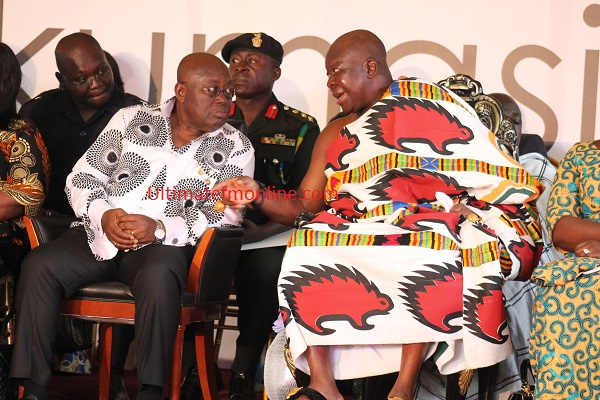 Head of IMANI Africa, Franklin Cudjoe has compared recent spate of destooling by Asantehene Otumfuo Osei Tutu II to the political lifespan and performance of the Nana Addo Dankwa Akufo-Addo-led government.
The Asantehene has in 2023 alone destooled five subchiefs over insubordination and illegal activities including sale of lands and involvement in galamsey.
For Cudjoe, the actions of the Asantehene in cracking the whip has outweighed that of president Akufo-Addo whose appointees have run the economy aground yet they are still holding positions.
"Asantehene is reshuffling. Destools 5 sub-chiefs in just 4 months. More in the pipelìne. This record is unnmatched by Nana, who seven years on is happy with his men even though they helped him ran the economy into a ravine," Cudjoe stated in a Facebook post dated August 22.
The most recent subchief of Otumfuo to have been shown the exit was Abuontemhene of Kumasi Traditional Council, Nana Kwaku Duah III, for illegally selling lands under his jurisdiction.
The announcement came during a meeting convened at the Menhyia Palace on Monday, August 21, where the Kumasi Traditional Council gathered to address the issue.
The decision to strip Nana Kwaku Duah III of his position as divisional chief was triggered by accusations brought forward by fellow subchiefs.
The subchiefs accused him of not only disregarding the directives of Otumfuo Osei Tutu II but also of engaging in the sale of lands, including one that was under investigation and subject to a trespassing warning by Otumfuo.
The subchiefs presented a series of allegations including claims that he used Otumfuo's name to gain approval for his activities on the land in question, despite the ongoing investigation.
They further accused him of venturing into territory belonging to others and facilitating land sales without proper authorization.
In response to the allegations, Nana Kwaku Duah III denied the specific accusation of using Otumfuo's name as leverage for his actions.
However, he acknowledged his presence on the land but asserted that he allowed others to work on it with his permission.
After putting up his defense, Otumfuo announced the decision to destool Nana Kwaku Duah III, emphasizing that his actions had violated his authority and orders.
"For me saying that nobody should go to the said land and for you to go there, you have disrespected his lordship of which you can no longer remain a chief. Tell them for them to know that even sitting on that throne, you are not from the royal family," Otumfuo said.
Source: www.ghanaweb.com