Hon Martin Kofi Bonye, the independent parliamentary candidate for Sefwi Wiawso constituency of the Western North Region has disclosed that the only thing that could exceed his tolerance in the upcoming polls is election rigging.
He said, rigging an election is the key factor that can lead to violence which can eventually disrupt the peace of the country, hence, the electoral commission should ensure free and fair election in the December polls.
"Every individual has his or her limit in terms of tolerance, the only thing I cannot tolerate on this earth is election rigging which can lead to violence because I am an Ambassador of peace" he stated.
He made this disclosure in an interview with Pollo Esposito on DBDB morning show on De Beat FM  as part of his peace message as Ghana is two weeks in to the polls.
He therefore called on Electorates to vote massively for him to come and drive the development of Sefwi Wiawso constituency and assured that what is expected from him will be delivered when voted into power.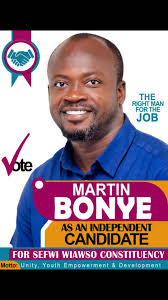 Source: De Beat Newsroom/Thepressradio.com