Children of late Supreme Court Justice fight over his estate in High Court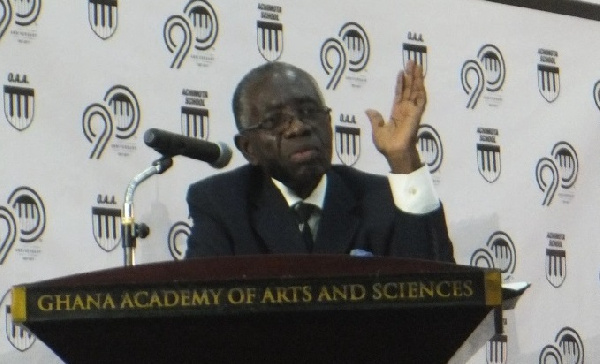 The late Justice of the Supreme Court, Dr. Seth Twum died on May 25, 2022 and was subsequently buried on July 2, 2022.
A little over a year later, two of his children have dragged four others and his widow to court over his estate.
The two contend that their late father's Will had been forged by some former employees of his law firm and a daughter.
Abena Twum and Esther Twum (Plaintiffs), are thus, contesting the validity of a will purported to have been left behind by their deceased father.
A report of August 23, 2023 by The Ghanaian Chronicle newspaper stated in part: "The Will, being contested at the High Court, allegedly makes no mention of the Plaintiffs in the sharing of late Justice Twum's Estate, that are reportedly made up of land, investments and monies in his Barclays Bank Ghana and United Kingdom accounts.
"These properties include a Cantonments building leased to Free Zones Authority, ICON property, adjacent the American Embassy, a double plot at Trassacco Valley, a residential property at East Legon, as well as a piece of land at Abelenkpe, all in Accra."
According to GhanaWeb checks the late Justice originally had seven children – the first child is late, the plaintiffs are Esther (second), Abena (third).
The duo, who have different mothers, want the court among other things to declare their father's Will as deposited with the courts as forged and invalid.
They are challenging their half siblings (Defendants), Audrey Twum (forth and a lawyer) Seth Kwame Twum (fifth), Evelyn (sixth) and Leonora Nana Yaa Twum (seventh) and their mother Julie Twum.
Plaintiffs state that their respective mothers were not married to their father at the time they were born, however, Madam Julie was their late father's legal wife.
Additional files from The Ghanaian Chronicle story:
According to their claim, the circumstances under which the purported will of the deceased was deposited at the High Court Registry on June 7, 2022 and read on December 21, 2022 was a forgery, invalid, null and void.
They are, therefore, praying the High Court for an Order of Injunction to restrain the Defendants, their Assigns and Privies, Agents, Servants, Workmen, Allottees, Grantees and Successors in interest, other Alienees and Relations whatsoever and howsoever described from dealing with all properties of Dr. Seth Twum (deceased), until Letters of Administration have been granted.
The Plaintiffs are also seeking from the Court an order for accounts on the properties of late Dr. Seth Twum in the possession of the Defendants.
Who was Justice (Dr.) Seth Twum?
Seth Twum is a former Ghanaian Supreme Court Judge. He served on the Supreme Court bench from 2002 to 2007.
Twum was born on 20 March 1937. He had his secondary education at the Achimota School.
He was nominated in July 2002 and was vetted in September that same year. A month later, he was approved by parliament and was sworn into office in November that year together with Justice Georgina Theodora Wood, Justice Stephen Alan Brobbey, and Justice Samuel Glenn Baddoo by the then-president John Agyekum Kufour.
He retired on 20 March 2007 at the mandatory retirement age of seventy (70) years.
Source: www.ghanaweb.com