Chairman Wontumi replies KKD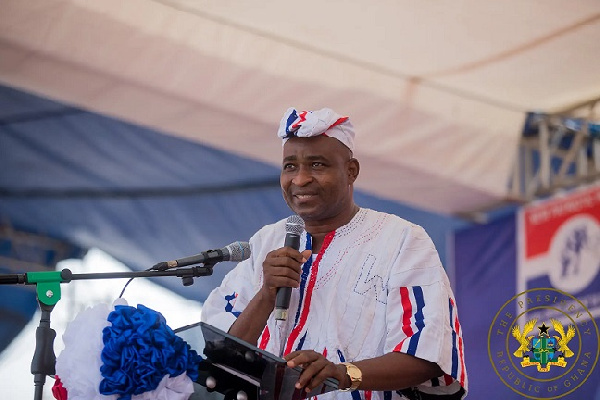 The Ashanti Regional Chairman of the New Patriotic Party (NPP), Bernard Antwi Boasiako (a.k.a Chairman Wontumi), has slammed veteran Ghanaian media personality, Kwasi Kyei Darkwah, alias KKD, for saying that "the person who came up with the term 'break the eight' lacked knowledge".
Speaking in an interview on Neat FM, on Friday, July 28, 2023, Wontumi accused KKD of being too emotional with his criticism of the Nana Addo Dankwa Akufo-Addo government.
He, therefore, urged the veteran to be circumspect in his criticism of the government so that he is not seen as someone who has been paid by the former president, John Dramani Mahama, to criticise the government.
"KKD, I plead with you, when you are talking don't let your emotions be bigger than your quietness. Anytime you want to speak let your voice be more stronger than your quietness.
"But if you come to speak and all you (KKD) do is insult, it makes it seem like you are one of the people John Mahama has paid, like Kelvin Taylor, to criticise the government," he said.
The NPP Ashanti Regional chairman added that his party has done enough to win power for an unprecedented third successive term, 'break the 8'.
What KKD said:
KKD said that the person responsible for coining the term, 'breaking the eight', lacks common sense, as he believes that if the ruling government had performed well enough to merit an extension beyond eight years in power, there would be no need to resort to such slogans.
Speaking in an interview with TV XYZ on July 26, 2023, KKD criticized the current president, Nana Addo Dankwa Akufo Addo, accusing him of failing to fulfil his promise to tackle illegal mining, commonly known as galamsey.
"Things that you were supposed to do to break the eight, if you would have done it there wouldn't be any need for a campaign, because of galamsey you bet with your presidency, you people should play the time that the president said that he will put his president on a bet to fight galamsey for me, whom are you deceiving here?" he said.
He highlighted how the president's inability to deliver on this key issue has raised questions about the credibility of the government's promises.
"The person who coined 'Breaking the Eight' doesn't have sense, you people should mention the name for me, the person doesn't have sense, we have book sense and common sense," KKD exclaimed.
He continued, "Imagine you married a wife and during the marriage, you couldn't buy anything for your wife, she has become dirty and all her clothes are torn, your children you didn't take care of them.
"You couldn't take those who were sick to the hospital, and all of a sudden then you want to leave, then a different person comes to marry her…then you realize that that is the time you want to do good to her… fool, why didn't you do those things initially."
WATCH Our latest Episode with Kennedy Agyapong in South Africa below:
Watch Wontumi and KKD's interviews below:
Source: www.ghanaweb.com