AK-47, pump action gun and pistols: Police reveal weapons retrieved from suspected land guards killed in gun battle at Bortianor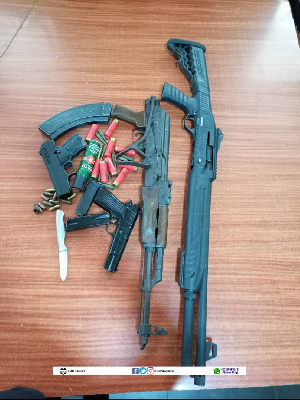 The Ghana Police Service has confirmed the deaths of five individuals during a gunfire exchange with suspected land guards in Bortianor, Greater Accra Region.
Earlier media reports indicated that nine suspected land guards were gunned down by members of the Police Anti-Robbery Unit on Friday, June 9, 2023. However, the Ghana Police Service, in a statement on Saturday, June 10, 2023, revised the number of fatalities to five.
"On June 8th, 2023, the police conducted an operation targeting criminal elements involved in robbery and land guard activities. These individuals had been terrorizing residents and landowners in Bortianor and nearby communities," the statement explained.
Upon detecting the approaching police team, the suspects opened fire from their hideout, prompting the police to retaliate. As a result, five of the suspects were injured and later pronounced dead at the hospital, while the remaining suspects fled the scene and are still at large.
According to the police, various weapons, including guns and ammunition, were seized as exhibits from the suspects.
"Exhibits retrieved from the crime scene include one (1) AK47 assault rifle, ten (10) rounds of AK47 ammunition, one (1) pump-action gun with nine (9) rounds of BB cartridges, two (2) pistols with ten (10) rounds of 9mm ammunition, one (1) unregistered Toyota Tacoma pickup, four (4) motorbikes, three (3) of which are unregistered, a knife, and a pepper spray," the police reported.
The police emphasized that they are actively pursuing the remaining suspects, including those who sustained injuries during the shootout. They appealed to the public, particularly residents of the Bortianor community, to promptly report individuals with gunshot wounds who may seek medical treatment, as such information would assist the police in taking immediate action.
Source: www.ghanaweb.com