The Abia state Commissioner of Finance and a Stalwart of the Peoples Democratic Party (PDP), Dr Aham Kelvin Uko, has revealed his position on the choice Professor Uche Ikonne by Governor Okezie Ikpeazu to succeed him in 2023.
This is coming on the heels of the exchange of political brickbats by leaders and critical stakeholders and party members, from the Ikwuano/Umuahia extraction and Ukwa/Ngwa ethnic bloc
in Abia State over Ikpeazu's endorsement on Ikonne who hailed from the same ethinc bloc with the incumbent governor.
Recall that PDP stakeholders particularly from the Ikwuano/umuahia extraction led by the immediate past Commissioner of Local Government and Chieftaincy Affairs, Chief Charles Ogbonna, had kicked against Governor Ikpeazu's stand on Professor Uche Ikonne and  maintained that the governor's decision negated the existing Abia charter of equity which encouraged the rotation of governorship seat of Abia among the three senatorial district which are; Abia North, Abia central and Abia South.
They further insisted that power must shift to the Abia north senatorial district to strengthen the existing political stability and harmony, and hinged their demand was based on equity and fairness.
Recall earlier that Professor Ikonne who was the a former vice chancellor of Abia State University Uturu (ABSU), had on 25th of May 2022, declared the winner of the concluded gubernatorial primary elections conducted by the leadership of the Peoples Democractic Party (PDP) for the 2023 general elections which took place in Umuahia Township Stadium.
He polled total of 468 votes to defeat
co-contestants jostling for the party's governorship seat ticket ahead of main elections in 2023 in the state.
The Chairman, Abia State PDP Gubernatorial Primary Election Committee and former Governor of Ekiti State, Ayo Fayose announced the result of the concluded Governorship Primary Election
However, Dr Uko who doubled as a leader of the PDP in umuahia north local government area of Abia state, while speaking to a cross section of journalists at his Ohuhu residence in Umuahia on Sunday, pledged his unalloyed support to the gubernatorial candidancy of Professor Uche Ikonne for the coming main elections in 2023 in Abia state.
The Abia chieftain who hailed from Ikwuano/Umuahia extraction of the state, hinted that he endorsed the Peoples Democratic Party 2023 governorship candidate the forthcoming elections, Uche Ikonne because of his strength of character and competence.
According to him," Professor Ikonne is experienced and firm man the people of Abia state needs at this time.
"I have not made any public statement on the 2023 Abia Governorship contest, and today is the first time that I am going to declare my support openly for any candidate.
"In life one can lose wealth and regain it, one can lose properties and buy them back but once any human being loses his CHARACTER that person is better off dead.
"I have seen and dealt with almost everybody wanting to be governor of the state and I have chosen to support Prof. Eleazar Uche Ikonne, to be the governor of Abia state come 2023.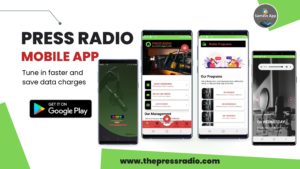 "Because of his strength of character  and competence,  he is a man of strong conviction, he is truthful, honest, experienced and firm and that's the type of man Abia state needs at this time".
Source: Thepressradio.com | Nigeria|Emeruwa Chijindu Emeruwa