5 Nigerian celebs who dress like Barbie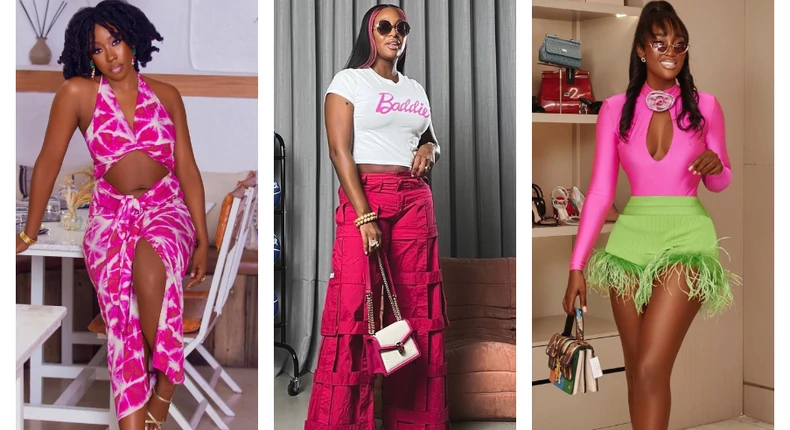 What is Barbiecore dressing? The love for pink, short dresses, matching two-piece, and feminine silhouettes is what makes up Barbiecore.
The release of Greta Gerwig's Barbie movie has sent the internet into a Barbie frenzy. Barbiecore and Barbiemania are two of the most trending words recently.
We can see Barbiecore from the way the lead in the highly anticipated Barbie movie, Margot Robbie, dresses at the movie premieres and press events. Which Nigerian female celebrity dresses like that? Here are five Nigerian celebs who do:
1. DJ Cuppy
Florence Otedola, also known as DJ Cuppy, has thoroughly mastered dressing like Barbie because of her love for pink.
Her trademarks are pink hair extensions and pink outfits. She even painted her apartment pink, what's more Barbie than that?
2. Beverly Naya
Even though Beverly Naya wears a lot of black and neutral colors, her love for pink still remains. Beverly's style is soft and feminine, just like Barbie's. She also loves a good matching two-piece.
She is sexy yet classy, and her outfits are immensely flattering on her body.
3. Simi Kosoko
Simi love for short skirts, crop tops, and short tulle gowns makes her style a definite Barbiecore.
Simi also subconsciously, or maybe consciously, wears a lot of pink outfits.
4. Tolu Bally
This fashion designer looks like a real life-size Barbie with her smooth dark skin and tall figure.
But what makes her the epitome of the Barbiecore is her feminine outfit choices with sexy silhouettes and her love for pink.
5. Kim Oprah
Kim's physical appearance screams Barbie from a mile away, but what's really Barbie about Kim is her love for really fashionable, elegant, yet sexy outfits.
Nothing is more Barbie than that.