21-year-old Ghanaian man who shot mom, brother in US identified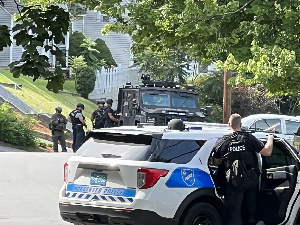 The young man who engaged in a 13-hour standoff with police in Worcester in the US state of Massachusetts, late last week has been identified as Caleb Boateng, according to telegram.com, a local news website.
The 24-year-old shot two people, now identified as his mother and brother, before engaging with the police units deployed to the scene.
The two escaped from the property before the police arrived at the scene. They were taken to hospital and remain on admission as at July 10.
A report by the portal said the injured persons and the perpetrator were related and that the house where the incident took place was listed as belonging to one Anthony Boateng.
"The four-bedroom Cape-style house is listed as belonging to Anthony Boateng, according to the city's property record website.
"Unofficial sources said the suspected gunman was identified as Caleb Boateng. The relationship between the listed owner and the suspected gunman was not immediately apparent," the report stated.
Meanwhile, the shooter who was injured by a gunshot to his shoulder and a dog bite as he tried to escape the hope via the backdoor is expected to be arraigned before the court on Tuesday, July 11, even though he is being treated at the hospital.
Source: www.ghanaweb.com