Why Stephen Appiah cried uncontrollably when his late father's body was sent to Chorkor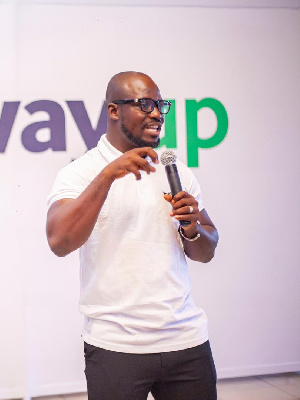 Former Black Stars skipper Stephen 'Tornado' Appiah has revealed how he wept uncontrollably when the corpse of his late dad was sent to Chorkor for the last time as part of burial rites.
Appiah was born in Accra, Chorkor where he started playing on the streets of the Ga community together with friends including former Hearts of Oak star Edmund Copson.
According to the former Ghanaian international, he had always bragged to his wife that he was not going to Accra when someone close to him died but when the body of his late dad arrived at their house in Chorkor, he broke down in tears as it reminded him of the struggles of his family.
"We picked the body from the mortuary and brought it home in Chorkor and by then I had already run my mouth to my wife that I don't understand why people cry so much when people pass on", he told Muftawu Nabila on JoySports.
"I said okay for me I will feel bad, and shed tears but I won't cry as others cry. So, when the body arrived in Chorkor, a lot of people came and I was standing in front of our house and then suddenly I began to cry and I couldn't hold myself. I was there with Laryea Kingston and his wife and when we left for the church, my wife said Stephen I told you, you think you are hard but you are not".
Appiah who was the first captain to qualify Ghana for the first World Cup in Germany, in 2006 added that he used to sleep in cars with friends and did menial jobs to survive.
Appiah, 42, played for Ghana's U17 and U20 before making his debut for the Black Stars in 1995 and retired in 2010 after the World Cup in South Africa, where capped 67 times for the Black Stars and scored 14 times.
He enjoyed a larger part of his European success playing in the Italian Serie A where he featured for Udinese, Parma, Brescia, Juventus, Cesena, and Bologna while he also spent three years with Turkish giants Fenerbache from 2005 to 2008.
Watch the video below:
Source: www.ghanaweb.com