West Ham fan travels from UK to Kumasi to watch Mohammed Kudus in action for Ghana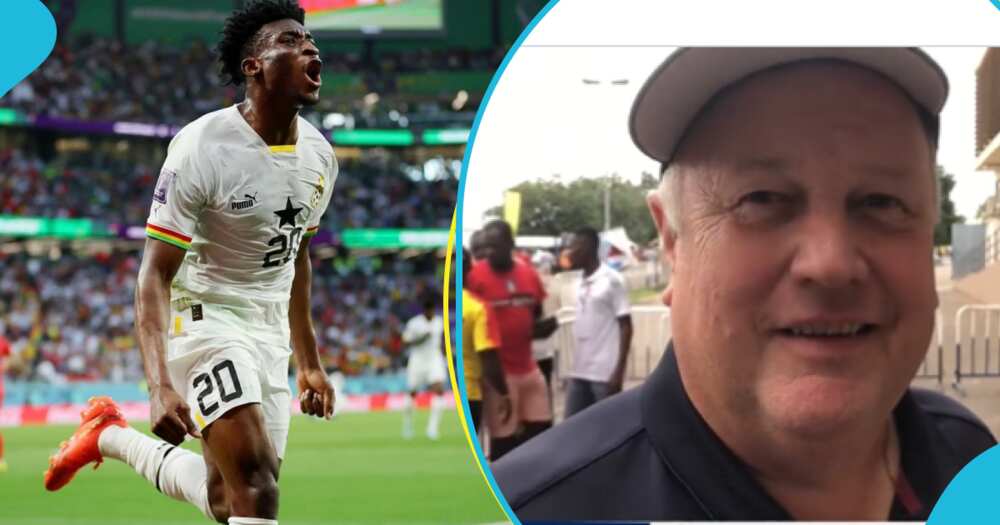 A staunch West Ham fan who traveled all the way from London to Kumasi to watch Mohammed Kudus play for Ghana's Black Stars in the 2023 AFCON qualifiers on Thursday, September 7, 2023.
Speaking exclusively to GhanaWeb, Ian, the West Ham fan revealed that he was able to make the trip in time from London to Ghana just to watch the new West Ham player, Mohammed Kudus in action.
"I am here to watch Mohammed Kudus, our new signing," Ian said when asked which player he was coming to watch in the match.
"He is very skillful and strong. We love him," the West Ham fan told GhanaWeb's Joseph Adamafio at the Baba Yara Stadium.
He added, "West Ham are massive everywhere we go and I have come all the way from the UK to watch Mohammed Kudus and the Black Stars."
Mohammed Kudus was in action in Ghana's game against the Central African Republic at the Baba Yara Stadium in Kumasi.
The West Ham fan's efforts to watch his favourite player paid off as Mohammed as Kudus scored a crucial equalizer for Ghana through a free-kick after the opponents had taken the lead in the game.
Ghana won the game 2-1 and qualified as group leaders to the 2023 Africa Cup of Nations tournament to be hosted in Ivory Coast next year.
Following Kudus's outstanding performances at the 2022 World Cup and his impressive tenure with Ajax Amsterdam, several European clubs expressed interest in him. West Ham ultimately secured his signature a few weeks ago.
Kudus only made his debut for West Ham shortly before the international break, appearing in injury time during their 2-1 victory over Luton Town. Despite this brief appearance, he had already garnered a passionate following in London.
Kudus is anticipated to return to West Ham the following week, where he will receive a warm welcome from fans eager to witness his exceptional skills. His presence is eagerly anticipated in an upcoming match against Manchester City at the London Stadium when the Premier League resumes.
Watch videos from Ghana vs C.A.R match below
Source: www.ghanaweb.com