Watch video of truck driver using one leg to drive on highway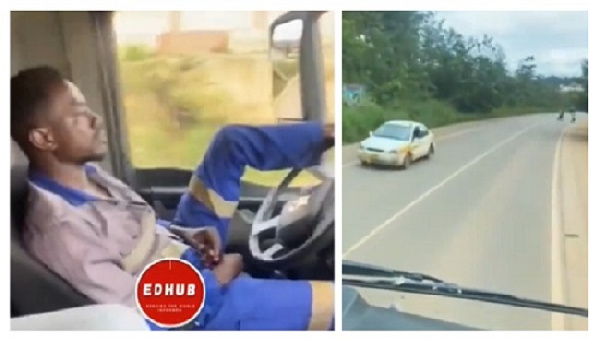 A viral video of a truck driver operating his vehicle on a highway using his legs to control the steering wheel has been shared on social media.
In the video, two individuals are captured in the truck, which is seen hurtling down the highway at considerable speed.
The driver, is steering the truck using his legs while confidently folding his hands, displaying a complete lack of regard for safety or the potential consequences of his actions.
As the video unfolds, other vehicles can be seen approaching the highway, highlighting the perilous situation created.
Despite the danger, the driver continues in the unorthodox driving mode.0
The video was originally posted on Twitter by the user @Daebreak01, who captioned the post thus: "Just look at this!!! If an accident happens right now, people will be saying bad roads, blaming the President and the Devil himself!! Bibinii."
Watch the video below:
Source: www.ghanaweb.com