Watch Bawumia, other NPP executives defy torrential rains to shake hands with footballers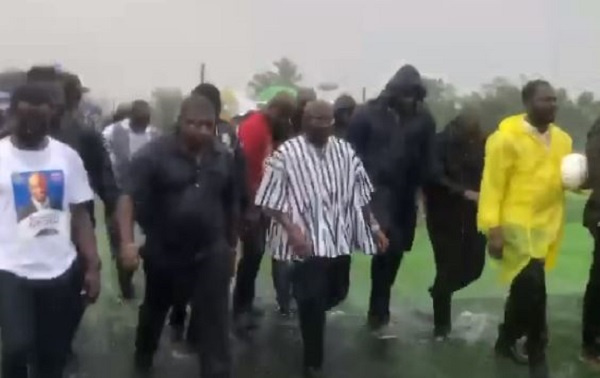 In a remarkable display of unwavering commitment, Vice President Dr. Alhaji Mahamudu Bawumia and some NPP executives braved through torrential rains to commission an Astro turf in Assin North.
Despite the overflow, they stood their ground, greeting footballers with handshakes and spreading a message of encouragement.
In a video capturing the scene, the vice president, alongside NPP executives including Nana B, walked through the rain to exchange pleasantries with the footballers as part of the commissioning of the pitch. Dr. Bawumia who declined to to take cover under an umbrella, was heard saying, "Give it your best," instilling a sense of determination in the athletes.
Even the newly-constructed Astro turf itself was not spared as the football pitch turned into a swimming pool, adding an unexpected twist to the event.
The commissioning of the Astro turf holds significant importance as the Assin North constituency prepares for a highly anticipated by-election on June 27.
This electoral event follows a Supreme Court ruling that declared the election of James Gyakye Quayson as Member of Parliament (MP) for Assin North unconstitutional.
In response to the court's decision, both major political parties have swiftly mobilized their forces, embarking on vigorous campaigns to rally voters and secure victory in the upcoming by-election.
Watch the video below
Source: www.ghanaweb.com