Watch Balotelli's reaction to video of young Erling Haaland wearing his Manchester City jersey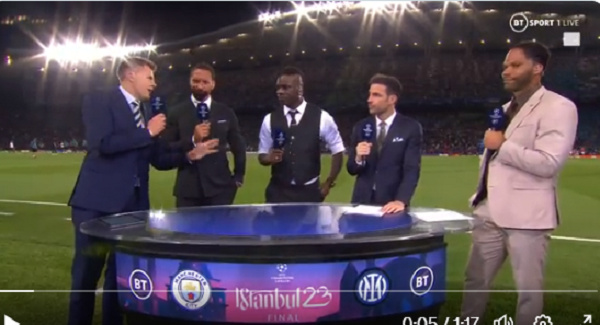 Italian international and FC Sion forward, Mario Balotelli says Norwegian and Manchester City forward Erling Haaland has learnt good after a young Haaland was seen in an old Manchester City shirt with "Balotelli 45" on the back.
Balotelli, 32, was a pundit on BT Sports on Saturday, June 10 when Manchester City defeated Inter Milan 1-0 to clinch the 2022/23 UEFA Champions League in Istanbul, Turkey.
He was shown a footage of young Haaland training where he had Balotelli's old Manchester City jersey on.
Reacting to the scene after watching the short video of Haaland by presenter Jake Humphrey, the former Inter Milan star said "I don't know. It's good. He learnt good", he told the Sun.
When quizzed on what he thinks of Haaland as a player, Balotelli said "I think he's amazing. He's like a predator in the area. Obviously outside he has a big sprint, he's very fast – but he can score. You need to bring the ball to him, but on five chances he scores five goals, amazing striker", he added.
Haaland, 22, joined Manchester City prior to the 2022/23 English Premiership where he ended his debut campaign as the top scorer with 36 goals in 35 games and topped it with the league title.
He also won the UEFA Champions League for the first time and crowned it as the top scorer with 11 goals in 12 games.
Source: www.ghanaweb.com