Upper East takes delivery of anthrax vaccines from Zipline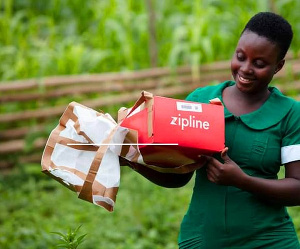 The Upper East Regional Public Health Emergency Management Committee (PHEMC) has taken delivery of 100,000 anthrax vaccines from Zipline Ghana Limited to vaccinate cattle and ruminants across the Region.
The vaccines, expected to boost the ongoing vaccination exercise across the Region, would check the spread of the anthrax virus recently recorded in some Districts of the Region, which led to a ban on slaughtering and movement of cattle and ruminants.
Speaking to journalists at the drone delivery point at the Regional Hospital, Mr Stephen Yakubu, the Regional Minister and Chair of the PHEMC, said the Region earlier received about 40,000 anthrax vaccines out of the 100,000 to beef up the ongoing vaccination exercise.
He said the vaccines were manufactured in Pong-Tamale in the Northern Region with the support of government and development partners, "We have the 100,000 vaccines, and Zipline is helping us to move them across the entire Region.
"Already, they have delivered about 40,000 of the vaccines to areas in critical need. We hope that these100,000 will help us meet the 70 per cent target to be able to lift the ban. Hopefully by the weekend, we would evaluate to know how many we have vaccinated so far, for the technical people to advise accordingly," he said.
Mr Yakubu said the PHEMC was working to ensure the ban was lifted before the Eid-ul-Adha celebration, "That is what we are working towards, but nothing is guaranteed," he said, and disclosed that two animals had earlier died in the Bolgatanga Municipality prior to the vaccine delivery, and samples were taken for investigation.
He emphasized that the vaccination exercise was free of charge and urged animal owners within the animal category to make their animals available for the vaccines.
Dr Henry Nii Ayi Anang, the Regional Veterinary Officer, said the vaccines would immediately be dispatched to the field to continue with the vaccination exercise, adding that the exercise was ongoing smoothly, as some of the Zipline drones were delivering the vaccines across the various Districts.
Dr Anang, who could not give an estimated number of animals vaccinated so far, however indicated that about 5,000 animals were vaccinated each day, and said until the entire exercise was concluded, his outfit could not give the number of animals vaccinated.
"We collect our data at the close of every vaccination," Dr Anang noted.
Mr Abdul-Jalil Abdulai, the Community Integrations Lead for Zipline for the Walewale Central in the North East Region, said the delivery service was a collaborative effort between the Veterinary Services Department and Cowtribe, a Non-Governmental Organization.
He said Zipline was to provide instant drone delivery services, "So we have a state-of-the-art warehouse where we have cold chain equipment. We take stock of the vaccines from the Veterinary Services Department, process the orders, and deliver same to the various distribution drop points."
Source: GNA