Tottenham legend details how Mikel Arteta can use Thomas Partey to get the best out of Declan Rice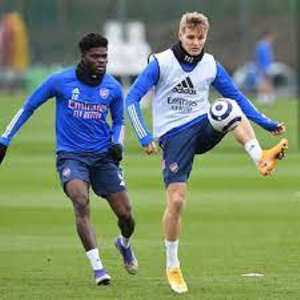 Former English international Darren Bent says 2022/23 English Premier League runners-up Arsenal have the best midfield in the league with Ghanaian international Thomas Partey
According to the Tottenham legend, the midfield trio of Thomas Partey, Declan Rice, and Martin Odegaard is one of the best and has the potential to be the best at the end of the season.
Bent argued that Arsenal's foundation is based on the midfield trio and the Gunners will be one of the tough teams to beat, citing that the impact of Thomas Partey is vital to the club as the 30-year-old has quick feet and has power in his legs.
"I still think Arsenal's best midfielder is Thomas Partey. Partey, Rice, and Odegaard, that midfield is where the foundation is. I still think Arsenal is the team to be but I still think Thomas's performance is very good. He's got quick legs and thinks very quick, powerful, and moves the ball really well", he told TalkSports.
Bent maintained that Arsenal's manager Mikel Arteta could get the best out of record signing Declan Rice if "Thomas is placed within Odegaard and Rice because he controls the midfield and that trio is the best in the Premier League", he added.
Arsenal have fetched six points in their first two games with a 2-1 victory over Nottingham Forest on Saturday, August 12 and a narrow 1-0 win over Crystal Palace on Monday, August 21.
However, Rice, Partey, and skipper Odegaard have featured in all games with Rice earning the Man of the Match award after his superb display against Crystal Palace.
Watch the video below:
Source: www.ghanaweb.com