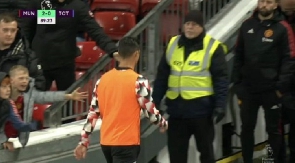 Cristiano Ronaldo is once again dominating the headline despite not playing a single minute in Manchester United's 2-0 victory over Tottenham in the Premier League on Wednesday, October 19, 2022.
Manchester United produced their best performance under new manager Erik Ten Hag with a commanding and emphatic 2-0 over out-of-sought Tottenham Hotspur.
Despite the incredible display from the likes of Casemiro, Fred and the likes Bruno Fernandez, Ronaldo grabbed the headlines for an act that has infuriated Manchester United fans.
As the team pulled off a spirited performance, Cristiano Ronaldo walked off the pitch in protest in the dying embers of the game and the United fans are having none of that.
Reacting to the incident after the game, Manchester United coach Erik Ten Hag parried questions on it, stating that he would like to focus on the victory instead of the incident by the five-time Ballon d'Or winner.
"I don't pay attention today [to this]. We deal with that tomorrow. We want to focus on this team, it was a magnificent performance from all 11 players. I have seen him [leaving], but I didn't speak to him after. I will deal with that tomorrow.
"Today I enjoyed the performance – we are celebrating this victory and now we have to recover from this and we have a big game against Chelsea [on Saturday] – the Premier League is so exciting.
"I have to correct myself, not 11 players but the subs who came on, it was a squad performance. What we see today are 11 players who defend and 11 who attack and there was a lot of dynamic in the attack but I would not say I am totally satisfied because that has to be the standard."
On social media, Manchester United fans have called out Ronaldo for being 'poisonous and selfish'.
They are angry that he is making it all about himself and taking the shine away from his teammates who put up a spirited performance.
Source: www.ghanaweb.com