Threaten me again and I will arrest you – Wontumi to Ken Agyapong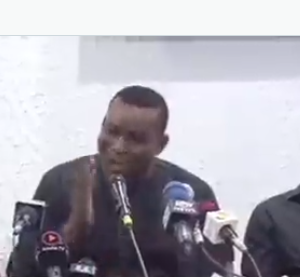 Ashanti Regional Chairman of the New Patriotic Party, Benard Antwi Bosiako has cautioned the NPP flagbearer hopeful,
Kennedy Agyapong
 to desist from casting insinuations and issuing threats at him.
'Chairman Wontumi' as he is affectionately called in a press conference on Wednesday, October 4, 2023, in Kumasi warned that, he will cause Kennedy Agyapong's arrest should he issue a threat to him 'again'.
He contends that there have been instances where Agyapong's threats have ended in people's deaths, citing the assassination of Tiger Eye PI's investigative journalist, Ahmed Suale, in 2019.
"It is not true that I, Wontumi have ever insulted anybody in the party. If Kennedy Agyapong claims that I have, he should bring his evidence.
"He can personally send it to me in a document form or put it on a pen drive. I'm his younger brother, I will assess the document and do the necessary conciliations," Wontumi said.
"Also, it is not true as Kennedy Agyapong alleges that I am destroying the NPP. You came to Kumasi and failed to meet up or call any of the leadership in the party and government in this region, yet you attacked the Regional Minister, you attacked Kyei-Mensah, you attacked the Education Minister and you attacked me, Wontumi.
"Now you are there playing saint that it is me rather that is destroying the party. Tell me, who is destroying the party?" he quizzed.
"I won't insult you and there's no better person to kill your campaign than yourself. But let me send this caution to you, Hon. Kennedy Agyapong, if you threaten me again, I will cause your arrest.
"We all know how some of your threats have ended. Some ended in the death of Ahmed Suale.
"I won't respond to you nor insult you but if you threaten me again, I will arrest you," Chairman Wontumi remarked.
Background
Hon. Kennedy Agyapong, Assin Central MP and aspiring flagbearer hopeful of the NPP accused Vice President Dr. Bawumia and Chairman Wontumi of collapsing the party.
In his address at a mammoth rally at the Jubilee Park in Kumasi, last weekend, the lawmaker did not mince words when he took on the duo, stating that their utterances could destabilise the party.
"You [Wontumi] sit on your television station and insult elderly people. You ditched Alan to support Bawumia and I don't have any problem with that, but don't insult. You are not the only people with license to insult. I am telling you Bawumia and Wontumi are collapsing NPP", he said as he accused the Vice President of intimidating delegates ahead of the NPP race.
"We will not sit down for them to destroy the party. They shouldn't make mistakes because I will be ready for them. There have not been any presidential race where chief executives and top appointees in government supporting one candidate, but they should try that again and they will see what will happen in this party", the lawmaker stated.
Source: purefmonline.com