The UK government data that indicates Bawumia is British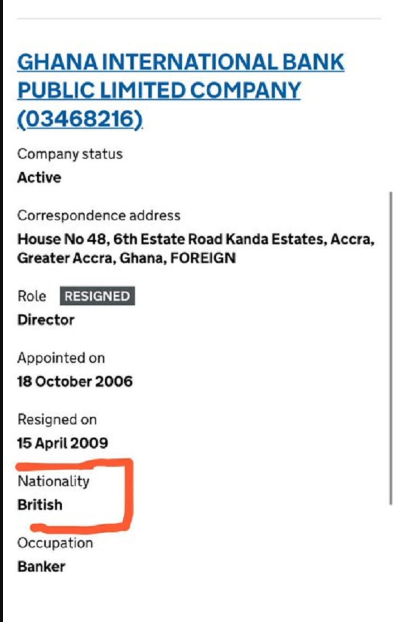 Sam Pee Yalley, a former ambassador of Ghana to India, alleged that records of the government of the United Kingdom (UK) show that the Vice President of Ghana, Dr.
Mahamudu Bawumia
, is a British national.
After Yalley's allegations, a record from the UK government's Companies House which indicates the claim he made has gone viral.
The record showed details about the vice president when he was the director of the Ghana International Bank, a subsidiary of the Bank of Ghana in London, UK.
It indicated that the Ghana International Bank was still active in the UK, but Dr. Bawmia has resigned as the bank's director.
He was appointed on October 18, 2006, and he resigned on April 15, 2009.
His residential address was stated as House No. 48, 6th Estate Road, Kanda Estates, Accra, Greater Accra, Ghana.
The vice president's occupation was recorded as banker, and his nationality was British.
Meanwhile, the spokesperson for Vice President Dr. Bawumia, Dr. Gideon Boako, has refuted claims that the vice president holds British citizenship in contradiction to the 1992 constitution.
In a post on his official Facebook page, Dr. Boako said that the vice president has never held British citizenship or any other citizenship aside from the Ghanaian one in his lifetime and called on Ghanaians to disregard all such claims and allegations.
"The attention of the Office of the Vice President has been drawn to a malicious social media allegation that the Vice President holds British citizenship while holding the office of Vice President, contrary to the laws of Ghana," parts of Dr. Boako's post on Facebook read.
"We wish to state in clear terms that Vice President Mahamudu Bawumia does not hold British citizenship and has never held British or any other citizenship other than being a Ghanaian. The allegation should be treated with the contempt it deserves," he added.
GhanaWeb has reached out to the UK government's Companies House and is yet to receive a response on the matter.
View the records of Bawumia on the UK government's Companies House below: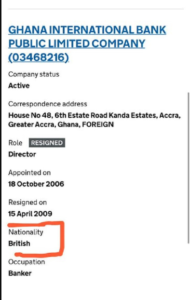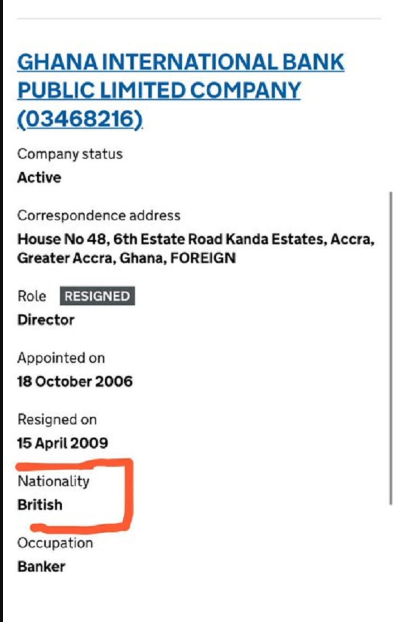 Read the full details originally published by find-and-update.company-information.service.gov.uk
Source: www.ghanaweb.com