Suspected armed robber killed at Ahyiam after a shootout with police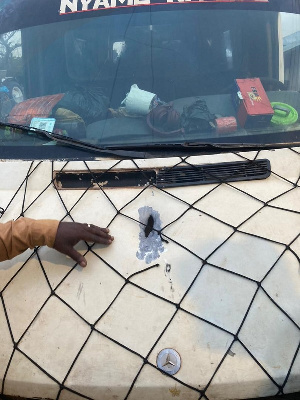 A suspected armed robber in his late twenties has been killed at Ahyiam in the Nkoranza South Municipality of the Bono East Region.
The incident happened in the early hours of Monday, June 26, 2023, on the Nkoranza-Ejura stretch.
According to reports, the suspected robbers numbering about five attacked a Yeji-Sunyani bound sprinter bus with registration number AS 1959-14 at the outskirt of Ahyiam.
The robbers reportedly opened fire on the vehicle destroying the fan blade, forcing the escort police officer to return fire at them.
One of the robbers in exchange for the gunfire was reportedly run over by the vehicle killing him instantly.
Narrating the incident, the driver Kwame Asamoah disclosed that the armed robbers suddenly started shooting at them when they got to the spot where they had mounted a roadblock.
He added that in an attempt to escape from the scene, he ran through the roadblock killing one of the robbers in the process which compelled the others to flee into the bush.
"When we got to the scene that is where they had mounted the roadblock, they started shooting indiscriminately at the vehicle so the police officer onboard also did the same. Thankfully in trying to escape from the apparent danger, I drove through and killed one in the process".
The Assembly Member for Ahyieam Electoral, Kwaku Azubire, told GhanaWeb that he was informed about the incident by a team of police personnel who rushed to the scene following a distress call.
"I was in the house at dawn yesterday when the police called me and took me to the scene. When I got there, I saw that one person was already dead and I was asked whether he is a resident of our community and I said no".
He bemoaned that the stretch has witnessed several robbery cases and appealed to the police to intensify patrols on the road to curb the number of robbery cases.
"We have witnessed several robbery cases in this area so we are appealing to the police to intensify patrols on the stretch to deal with the armed robbers because the area is becoming notorious for such cases".
Meanwhile, the body of the deceased has been deposited at the Nkoranza St. Theresa's Hospital morgue with police investigations underway.
Source: www.ghanaweb.com