Passenger busts fake soldier and weed peddler in trotro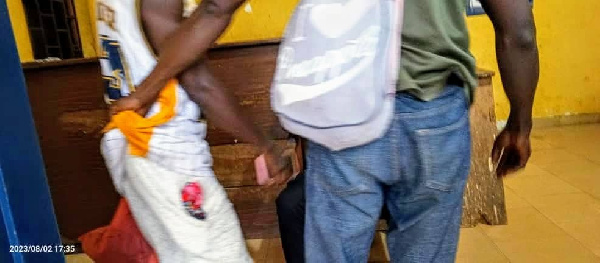 A bold move by businessman Daniel Anane led to the exposure of a fake military officer and a suspected drug peddler in a shared commercial vehicle, commonly known as a trotro.
The incident occurred during a journey from Cape Coast to Twifo Praso, with Anane taking swift action to bring the matter to the attention of the Twifo Hemang police station.
Hailing from Wassa Ateiku in the Wassa East District of the Western Region, Daniel Anane recounted the sequence of events to Sompa News' Eric Annan.
Anane described how a male passenger began assaulting another passenger while on the journey, prompting concern from fellow travelers.
The assailant identified himself as a military officer and claimed to have discovered illegal drugs on the victim as justification for his actions.
Doubting the legitimacy of the supposed military officer, Daniel Anane pressed for evidence of identity, but the individual couldn't provide any substantial proof.
Unconvinced, Anane requested that the driver of the vehicle drives directly to the Twifo Hemang police station, where both individuals were held.
Upon conducting a thorough search, the police discovered two parcels suspected to contain "wee" (marijuana) on the passenger who had been subjected to the beating by the fake soldier.
In a surprising turn, a subsequent search of the imposter soldier revealed needles and other injectable substances.
Anane persisted, urging the police to extend their search to the fake soldier, leading to the discovery of needles and injectable concoctions.
During interrogation, the fake soldier made shifting claims, initially asserting to be a radio presenter and later a veterinary doctor. However, he failed to provide any identification to validate these professions.
The case now rests with the Twifo Hemang police command as investigations into the matter begin.