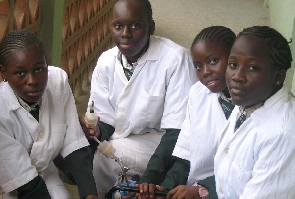 The idea of using urine to produce electricity started when 14-year-old Duro-Aina Adebola read an article about a family of five who lost their lives as a result of carbon monoxide poisoning. They had inhaled fumes emanating from their generator while asleep.
Disturbed by the incident, she thought deeply about how she could help to prevent similar incidents from happening in the future. The way out was to find another power source that doesn't release carbon monoxide.
She bounced off the idea with her three friends – Akindele Abiola, Faleke Oluwatoyin, all 14, and Bello Eniola, who was 15 at the time, according to UNICEF. The "Fantastic Four" as they later became known began their journey to realize their invention which produces an hour of electricity from one liter of urine.
The team said they told their science teacher, Olaide Lawal, about their idea, who gave them the indication it was possible. With this inspiration, the Fantastic Four began experimenting with possible materials that could produce power instead of relying on carbon.
It dawned on the team that rocket engines run on hydrogen. The premise of their invention was that if hydrogen was the raw material in their generator, the end product would be water. The team said after they experimented with water, they encountered a hurdle. Water produces low hydrogen. They concluded that if they electrolyzed water, the generator would lose 1.25 volts per cycle.
Adebola suggested to the team that they should experiment with a material that wouldn't cost anything but will generate the power needed to run domestic activity. It was at this stage that they considered the idea of using urine as the source of raw material. She said they initially built a system consisting of an electrolytic cell, which consisted of an old car battery. The system also had filters and pipes as well as an empty gas storage tank.
"We then reconfigured our petrol-based generator and carried out our first experiment – and then we faced another huge challenge as the cell exploded," the team told UNICEF. "We kept on checking our process and setup until Mr. Lawal pointed out our error: The hydrogen-oxygen gas mixture was returning to the cell. We then inserted one-way valves into the pipes to ensure a one-directional flow of the gas mixture, and it worked!"
When the team first exhibited their invention publicly, people did not have hope it would work. But the teens never lost faith, they made improvements to it.
They gained national attention when they exhibited their invention once again at the Maker Faire Africa in 2012. They have since then won national and international awards for their urine-powered generators. The Lagos State government also expressed the desire to fund the invention to be developed on a large scale for it to be used in homes.
The team said the invention would not have been a success without the support of their school, Doregos Private Academy, that provided the funding, transportation and moral support for them to pursue the dream.
Source: face2faceafrica.com