Meet the 2 NPP UK executives leading a counter protest to #OccupyJulorBiHouse protesters in London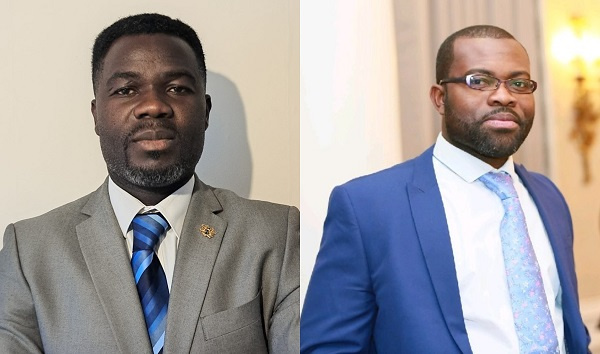 Ghanaians in the United Kingdom (UK) are holding their version of the #OccupyJulorBiHouse protest to voice their concerns to the government in their bid to solve the economic crisis and challenges facing the citizens of the country.
The protest, which held today, September 29, 2023, saw a number of Ghanaians who reside in the UK holding placards with inscriptions detailing the specific challenges they want the government to attend to.
While the protest was ongoing, two persons holding executive positions in the NPP UK branch were spotted holding placards displaying information that tended to praise the government for its achievement.
GhanaWeb brings you a profile of the two individuals who were carrying out a counter-protest in the UK while some aggrieved Ghanaians were voicing out their grievances in the UK edition of the #OccupyJulorbiHouse protest
1. Felix Hilton Kwamena Hamilton
He is the East London assistant branch secretary of the New Patriotic Party (NPP).
An international Security and Global governance expert who has a Bachelor of Science degree in Criminology, Criminal Justice at the University of London in Birkbeck.
Felix Hamilton is a veteran Inspector with a demonstrated history of working in the non-profit organization management industry.
He is adept in Private investigations, Customer Service, Criminal Profiling, Project Planning, and project management.
2. Alex Mensah Appiah
Alex Mensah Appiah is the United Kingdom Branch 1st Vice Chairman of the New Patriotic Party (NPP).
His dedication to the NPP has led to his appointment as an executive serving the party and steering its affairs together with other members.
Source: www.ghanaweb.com