'Madness! The Ghana Card is stupid' – Visibly angry foreigner residing in Ghana slams govt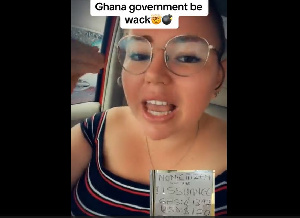 A visibly frustrated foreigner residing in Ghana has gone online to rant about what she says is the extortion of non-citizens in the country with regard to acquiring Ghana Cards.
The young lady, who vented her spleen in a minute and 3 seconds video, described the requirement for non-citizens to also acquire the Ghana Card as non-sensical.
She explained that, for instance, aside from paying huge sums of money for resident permits, it makes no sense for them to queue for long hours again to acquire the Ghana Card.
She also described the card as 'stupid,' wondering what the government has done to make the process of requiring the card less strenuous.
"Guys, I'm just coming from an NIA office, and I lack words to say how the government is extorting monies from us. Not even, Ghanaians as well. Why are we compelled to get a Ghana Card when we have resident permit and Ghanaians have voters ID cards when they have passport or birth certificate?
"What's preventing them from using those things? And you are compelling us to get Ghana Card? We're paying thousands of cedis for resident permit, we should come and pay huge sums of money again for some stupid Ghana Card. Look, and we spend hours; Ghanaians even spend days there getting a card," she stressed.
The foreigner further lamented the outrageous charges that she and other foreign nationals' residents in the country have to pay for the Ghana Card.
Posting a photo snippet of the prices they pay ($120 for issuance and $60 for renewal), she referred to the process as madness.
"So, what sense does it even make? What are you, as government, doing? It's just arrant nonsense! Look, I'm going to add a picture of the real price at this moment that's being paid by non-citizens. It is madness; it is money extortion and I'm going to make noise about it – noise, I will make," she added.
The Ghana Card has become the sole identification card being instituted by the government of Nana Addo Dankwa Akufo-Addo for all major transactions.
The Electoral Commission of Ghana has also made a proposal for the card to be considered the only card for electioneering purposes.
Watch the young lady's video as shared online below:
Source: www.ghanaweb.com