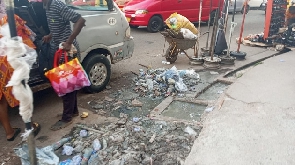 A section of Adum business district in the Kumasi metropolis of the Ashanti region stinks as a result of the spillage of human excreta mixed with refuse.
Some traders say the excreta leaks from a broken septic tank of the Kumasi Central Prison.
According to them, the leakages pass through gutters and spreads on the streets of the business centre.
Due to this, traders and passersby have no option but to cover their noses and walk through the excreta at the busy business centre to do their buying and selling.
Traders, in nose masks, who spoke to Class 91.3 FM's Elisha Adarkwah said they cannot withstand the stench that emanates from leakage. They bemoaned that aside from the negative health implications the situation poses, it is also running down their businesses.
They said several complaints have been channelled to the Kumasi Metropolitan Assembly to find a solution to the problem but nothing has been done about it.

The traders who expressed disappointment in the Kumasi Mayor, Sam Pyme, called on him as a matter of urgency to find a solution to the problem.