Anger as Soyinka fires Peter Obi and followers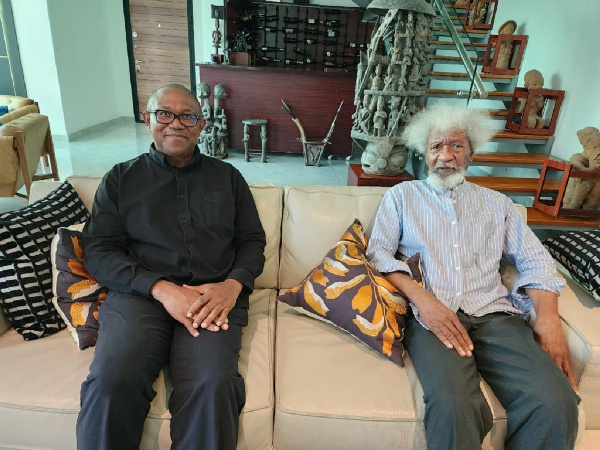 Supporters of Peter Obi, the 2023 presidential candidate of the Labour Party has tackled laureate Prof. Wole Soyinka, on social media.
On Wednesday, September 13, Soyinka said that the Labour Party leadership are aware that Peter Obi did not win the February 25 presidential election.
He said this while speaking at the 2023 'Africa in the World', which brought together the world's most innovative thinkers and top leaders to platform invigorating ideas for fresh changes and sustainable solutions for African people.
The event which started on Tuesday, September 12 and is scheduled to end on Saturday, September 16, 2023 at Stellenbosch, South Africa.
Soyinka during his speech, claimed that the LP leadership had been trying to mobilise young people in the country to protest against the outcome of the election on the "banner of lies and deceit."
The playwright also, accused the Obi's party of taking over the organised labour movement before the election.
He, however, commended Obi for breaking the dominance of the All Progressives Congress (APC) and the Peoples Democratic Party (PDP).
"This recent election – two things happened first of all. One party took over the labour movement, which is not my favourite movement, and then it became a regional party.
"Whereas it was a marvellous breach into the established two camps, Peter Obi achieved something remarkable there, that he broke that mould. However, he did not win the election.
"I can say categorically that Peter Obi's party came third not even second and the leadership knew it but they want to do what we call in Yoruba 'gbajue', that is a force of lies.
"They were going to send some of the hardliners, proud young people into the street to demonstrate. I'm also ready to be among such demonstrators but only on the banner of truth not on lies, and deceit.
"This party wanted a demonstration to happen on the basis of a lie and we find this vice-presidential candidate on television boasting, insisting, threatening and trying to intimidate both the judiciary and the rest.
"What kind of government will result from that kind of conduct? In addition, they did not know this but they were being used. Before the election, there were certain clandestine forces, including some ex-generals, who were already calling for an interim government before the elections began."
Reacting to Prof Soyinka's comment, some social media users took to Twitter to share their thoughts.
@aai_austin: "This insurrectionist This cultist Who invaded a radio station at gvn point, littered universities and the streets of Nigeria with cultism is out again making bogus claims."
Malcolm Omirhobo: "While Soyinka tried hard to mislead and misinform the whole world by hammering that Peter Obi did not win the election but he mischievously deliberately refused to address the issues as to whether the election was free, fair , credible and transparent."
Mikael Bernard: "Soyinka is a bigot He completely avoided the trending news about Tinubu and his Chicago University Certificate forgeries, DrugTrafficking, and others but decided to distract Nigerians with his false and fake news."
@FemiLakers: "But he win (sic) Lagos and FCT, some professor are political contractors"
@aliyusalehjnr1: "Everybody including the Obi knew this. But I don't know how they think."
Source: www.mynigeria.com